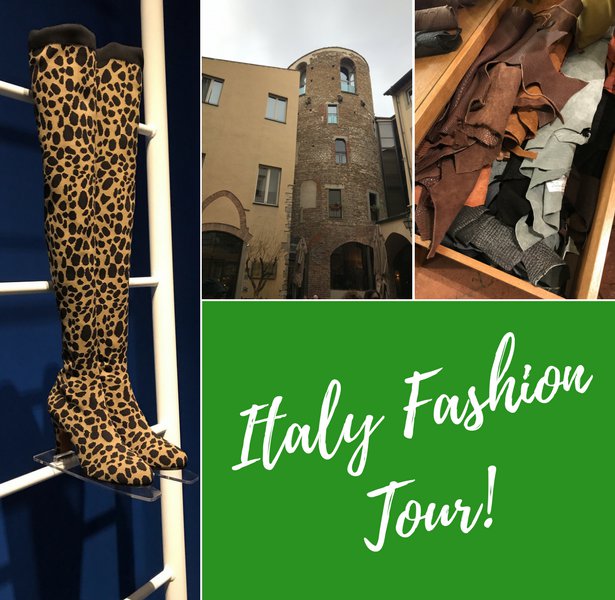 ShareThis
Day 3 and 4 of our BurdaStyle Italy tour with Craftours bas been so amazing and filled with tons of site seeing and walking! We relocated to the Florence area of Italy where the best leathers are and also got to see the beautiful quaint town of Montecatini Terme. Read to see more of what I've been up to these past couple of days…

This was the agenda for day 3 where we packed up our bags in Milan and hopped on the bus for a long 4 hours drive to Florence. On the bus right I gave a small BurdaStyle presentation and answered questions the ladies had about digital sewing patterns, BurdaStyle Academy, and anything Burda! It was a fun way to pass the time.



This is the scene we first walked off the bus to when we got to Florence, a much more historical town than Milan. But both beautiful!



From the bus drop off area we walked a little bit so we were right in the downtown area of Florence and gathered at the Basilica of Santa Croce in front of The Statue of Dante Alighieri. Dante was our tours main meeting point when we would all disperse for eating and shopping.



Here are some more pictures around the square, it was such a beautiful and sunny day! So far on the entire trip we have been so lucky weather wise.



The beauty of Basilica of Santa Croce took my breath away and brought me back to school when we took inspiration from architecture and history when developing designs. I have gained so much inspiration from all my surroundings here in Italy, and I'm excited to channel all of this when I get home to sew!



Then we continued onto Florentine Marbled Paper designs where we were taught a paper marling workshop and everyone on the tour hand made their own paper design.



The shop was filled with intricate handmade papers and here are just some that I spotted and were drawn to. They had a ton of very unique paper and leather products like journals, pencil cases, and more!



The first step in this process was to "tap" desired colors into the water. The ladies on the tour incorporated 3 – 7 colors in their paper designs. Once the paper color is in the water a large comb-type tool is used to create the design. If you use large movements you end up with big swirls in the paper and vice versa.



Then the paper is placed in the water bath with the paint and carefully extracted (the paper artisan did this for us) and voila! This is Kalina's pink marbled paper (on the left), and I love how it turned out! All the ladies were thrilled with how theirs looked. They did have to dry overnight so we collected the the next day once they were dry and it was fun to hear all the different ways the ladies were going to utilize the paper at home. Some wanted to frame them and other wanted to turn them into journal covers.



The shop was quite small so it couldn't accommodate everyone at once, so while I waited for my turn I hit up all the leather booths and shops in Florence and ended up purchasing an awesome black leather bag!



After everyone completed their paper marbling we all met up in Florence and boarded the bus en route to Montecatini Terme to check into our hotel. This hotel is was beautiful and historical, did you know that Christian Dior passed away in this hotel? The Grand Hotel and La Pace.



Just to give you a tiny glimpse of the beauty this is the lobby, there is so much more for me to explore! This hotel is the essence of Italy and I was amazing to stay here. As soon as I got to my room I fell asleep from all the activities we did this day.



On Thursday after a delicious authentic Italian breakfast at the hotel filled with fruits, meats, and cheeses… oh and the coffee… we started our day's adventures. We boarded back up onto the bus at 7:30 am to head back to Florence for a walking tour.



Here some of us are in our headsets so we could hear our amazing tour guide talk about all the historical sites of Florence. I love traveling and learning about the different cities I travel to, but I do really hate looking like a tourist and I kind of screamed like one today with my head set, runners, and map. But it was ok and worth it as I learned a lot.



The Cattedrale di Santa Maria del Fiore was breathtaking and we were taken to all sides of the church ti get glimpses of all the angles and beauty that this monument has to offer.



And of course we had to pay a visit to David! We were also shown where the authentic David was housed in Florence. It was just so surreal to finally see all these monuments that I read about in school and seen in movies right there in real life. I also caught Becky a fellow tour mate taking an up close selfie with David haha.



These are just a few more of the sights that we saw on our way to the first artisan we visited of the day. I really had no idea how much history and beauty Florence had and I was so thankful to learn about all the quirks of different little places around the town. Our guide said that the middle picture (the lower left image) was the oldest building in all of Florence! Now it is a very fancy hotel.



Our first artisan visit was to a family run mosaic studio, and their work was unbelievably beautiful.



You see this "painting-looking" thing? It is literally made of mosaic tiny cut stones. Up close these pieces of art of so detailed and the stones are not colored, they use only natural stones. There were pictures of the family mosaic artisans on stone hunts since some of these stones that they cut are not even sold, they must be found.



They use a bowed saw to cut the stone in pre-worked out shapes.



Then they are put all together. It was interesting to see the little paper pieces laid out on the stones to be cut, it was like laying pattern pieces on fabric! You need to best utilize it.



They also had a shop in the back of their workshop and this was my favorite piece.



Our next stop was the Florence Leather School. Student from all over the world come here to learn how to work with master the art of sewing Italian leather.



This was just a peek into one of the windows in the classroom/work studio.



the tour took turned watching demos of how they engrave the leather with gold! They use this technique on leather coasters, bags, accessories, and belts. Here we see the first step and it is to heat the design stamp that has a wooden handle and steel head with the design.



The sheet of gold is then overlaid on the leather and the heated press stamp is pushed on the gold into the leather in the desired pattern using a variety of different stamps to achieve the final look. Here he is making a leather coaster!



Once the stamping process is complete the excess gold is removed by rubbing off with a cloth and the finished coaster with gold imprint is revealed! Someone asked about the excess removed gold on the cloth and they said they keep them all until they have an excess and return them to the distributor where there extract back the gold from the cloth. No gold goes to waste here!



They use this same process when monogramming. Every purse you buy at the leather school, you get it monogrammed for free in gold.



I peeked my head into a room to see a purse being worked on.



You could also purchase many leather goods from the school. Everything from belts, accessories, to coats. The hallways were also covered in ancient art as the school was actually at the back of the Basilica of Santa Croce. There was a painting on the wall done by Michelangelo's teacher! Just imagine learning how to sew with leather in Italy with that kind of surroundings, how inspiring.



After we were blown away by the leather school, we walked across the Trinity Bridge to the other side of Florence to visit Stefano Bemer which sold only custom and handmade shoes.



I know the tour was all distracted by the handsome Italian man giving us the talk about their shoes, but we still all managed to get a grasp of their shoe making process from measuring to sewing.



He told us about all the famous clients they had that come to get shoes made and also showed us some very exotic shoe materials like elephant, shark and even reindeer from hundreds of years ago! My favorite picture here is the shoe boxes for in process orders where they cut the fabric swatch in the shape of a shoe.



Once we left the shoe artisan we saw a bit more of Florence including all their beautiful bridges!



Then we went to Antico Setificio Fiorentino, a handmade Italian silk factory with machines from the late 1700s…. that they still use!!!!!



In the little factory they had many original looms and machine that made silk, and they are all manual which is amazing.



This was the first step in their process, spinning the silk into smaller bobbin spools for the warp and weft weaves.



These are all the threads in the loom, I couldn't even imagine threading this!



This is my favorite picture to see the threads on the one side and the other the damask print that is being produced. Since these machines are very old they only produce about 1 meter of fabric on each machine every day, and their fabric costs about 1,000 Euro a meter as well. But what I love about Italy is the fact that clients are willing to pay these prices for artisan products that they know are hand made. I love that so much!



They also showed us into their show room where they had yardage of fabric and sewn sample of their fabric, it was all so beautiful. They even put out a little sweets tray for the tour! Everyone in Italy has been so nice and happy to show us into their work places and want us to see how they do things.



Our last stop of the day (yes it was a long day and I got close to 23, 000 steps in!) was the Salvatore Ferragamo Museum. If you don't know who Salvatore Ferragamo is he is an Italian shoe designer who I learned invented the ankle strap!



This exhibition specifically focussed on the 1920s – 1930s era which was awesome, because that is one of my favorite eras! These are some of the original shoes in this era that Salvatore Ferragamo created. He was also an inventor/engineer type and had a patent for the shank he used in his shoes which made them so wearable and comfortable.



They also included classic 1920s fashions.



These were some of my other favorite works from the exhibition including the original ads for Salvatore Ferragamo shoes in the 1920s. Also those boots… They were actually re-created this year for a runway show! I saw them and though those are so on-trend right now in 2017 and it is amazing to know that they were originally designed and from the 1920s.



…And by the end of this day I needed a drink, and the classic Italian aperol spritz hit the spot!


Tomorrow we go to Pisa and a cooking class, I'm very excited.
Happy Sewing!
Meg