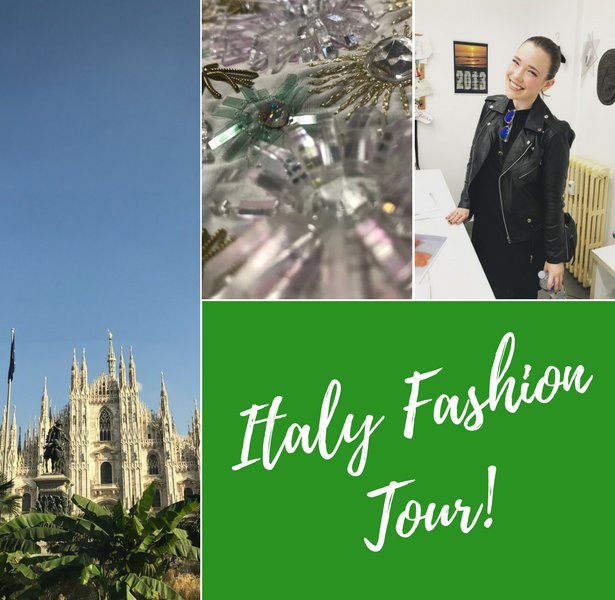 ShareThis
Hi BurdaStylers! I'm currently on our Fashion Tour to Italy that we partnered with Craftours for. So far it has been an amazing trip and I have eaten delicious Italian food, and toured some very interesting fashion factories. Read on to see what I've been up to for the first couple days of my trip.
There are over 30 ladies (and some men) on this trip, and it is so nice to be surrounded and travelling with fellow sewists who love fashion.

The first step to any trip is the flight! This one we took on an Italian airline and it was great, the flight wasn't full so I got a couple seats to myself and binge watched movies (I can't sleep on planes).



We were meet at the airport by two tour guides and I met some of my fellow tour mates who were also on my flight! We then got our itinerary booklets and hopped on the bus off to our first excursion…



… But first we eat! As the Italians do, and I REALLY needed an espresso. The Milan born tour guide took us to Cafe Auto for a quick bite before we started our day. I knew already I would love this trip, amazing coffee and food.



Then we proceeded to our bus tour of Milan, and all I can say is what a beautiful city. We were told Milan is actually the most modern city in Italy, and a sort of like "the NYC of Italy" since their stock exchange buildings and head offices were all there. This though was one of the more historical places the Cathedral of Santa Maria Nascente. We continued to tour around the city and downtown by bus to get an idea of the city. I didn't get to many good pictures since we were inside the tour bus and mostly I could just see my reflection of taking a picture haha.



But we were still enough for me to take a picture of this giant sculpture of a needle and thread! It is actually supposed to embody the transit system as all the threads are the colors of the different subway lines going into the ground. Who knew fashion and transit could work so well together in art.

Our next stop was The Poldi-Pezzoli Museum which featured ancient textiles and jewelry which were amazing to see.



Here is our guide talking about the Persian rugs in the room, they were absolutely stunning!



Some other items were the ancient velvets, jewelry, windows, and decor. This museum actually used to be a residence.
After the museum we boarded back up to the bus and headed to hotel where we enjoyed a dinner all together and I was in bed by 9 pm and fell right asleep for 12 hours.



Day two was jam packed! After the most delicious Italian breakfast (I had so much meat and cheese) we hopped on the bus to start the day. It is just so nice to not have to worry about any planning and your only job is to take in the experience and all the logistics are taken care of. Thanks Craftours!



So first up was the Pino Grasso Haute Couture Embroidery studio, and here we have Mr. Grasso's daughter talking about and pointing out some embroideries that they have made for various celecbrities, designers, and runway shows. We are in their office here taking in all the images of their creations and getting an introduction to their business. They work with designers such as Armani, Dolce and Gabanna, and Versace. So cool!



This image is the corner of one of their work studios, I just loved the irons and fabrics. I have a thing about corners in work spaces… All the cool things gather there.



So this is the first step in their embroidery (after they pencil in and draw the design). They use a special machine that punchers tiny holes in the paper along the design.



They then place the paper design with hole over the fabric to be embroidered and rub chalk over the paper to go through the holes onto the fabric.



One the paper is taken off the design is revealed and shown on the fabric.



It is then taken to the embroidery studio and put into a frame where it is then embroidered by hand! This one in particular was for Armani.



Here is a worker in studio perfecting the pencil design on paper for an embroidery.



After seeing the process we were taken down to the sample archive where Mr. Grasso showed us embroidery samples dating back to the 1960s. The tour spent so much time down here digging through the samples, taking pictures and gaining inspiration for future projects, I know I did!


This was a sample from a dress that Eva Longoria wore, and JUST the embroidery work apparently took 800 hours to make.



Here are just a few that I was inspired by and liked. They used such innovation and interesting materials in their embroideries like silicon, tiles, and shells.



I saw this design and instantly thought of my July Mash Up, the diver shirt!



After this tour we went for lunch where I enjoyed a DELICIOUS pizza with the group. Oh my, so good.



After lunch we headed to our next stop for the day a tour of Ratti silk factory. This is a picture of the outside as we were not allowed to take pictures inside the factory due to confidential fabric designs for designers. All I can say was OMG, this was the most interesting tour. We say their fabric print archive, and how they made fabric three different ways. First by weaving in a loom, then silk screening, and lastly printing onto fabric.



But we were allowed to take pictures inside the lobby, and here is me in front of their wall of old silk print templates. They were amazing to see…



Here is a close up, as they were little nails hammered in wood to create the designs.



After the tour we were taken to their outlet where we could shop fabric and scarves, needless to say everyone on the tour bought something because we were all so amazed and wanted something to take home to remember this experience. I purchased a Givenchy Tie for Julian my partner and a scarf for myself.
We then boarded the bus and were taken back to the hotel, as we spent way to long at the factory and didn't have time for the tour of the fashion district.


That concludes day 1 & 2! Check back on Thursday for Day 3 & 4 recap and also make sure to follow @burda_style on instagram as i'm taking over the stories if you want live coverage of my adventures.
Happy Sewing!
Meg from Italy