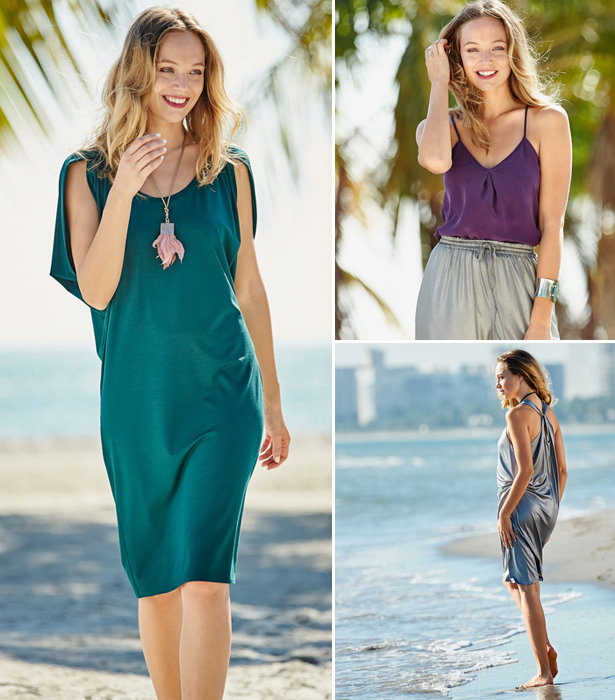 ShareThis
This new collection from the May 2016 issue of BurdaStyle features 11 new sewing patterns for women that include beautiful garments perfect for feeling the island breeze brush against your skin.
Click on the pattern image to go to the pattern store page…
This long flowing vest is made using a cool metallic knit fabric and is tied at the neck. It can be worn solo over a swimsuit or as a seductive top.
This fashionable suede blazer is short and features a wide falling collar with little seams, edges and seams are not turned over.
These drawstring pants are as glamorous as a maxi skirt and as comfortable as sweatpants. The wide elastic waistband of these metallic jersey pants is flattering.
This modern and comfortable jumpsuit is a great alternative to an evening dress! It's made out of precious shimmering silk jersey that makes the casual cut of the jumpsuit with it's drawstring waist and back entanglement a perfect option for a fancier night out.
This gathered goddess dress features an asymmetrical ruching at the hip and interlocking carrier in the back. The cut of the dress shows off the softly falling jersey fabric creating dramatic draperies.
Sleeve vents and little darts at the shoulders contribute to a flattering cape effect. It's a simple easy dress that can be dressed up or down based on the shoes and accessories that you pair it with.
Exceptional armholes that are superimposed on the neck, gives the simple shirt new volume.
This tank top features a box pleat and a lengthened back section that will suit business, leisure and party outfits.
A dress for a fashion goddess! This asymmetric cowl neck satin dress features oblique folds in the skirt and a narrow belt that defines the waist.
This sexy cocktail dress features an asymmetrical neckline, and side pleats on the chest and hip area. A cloth belt can also be worn on the waist.
This short sleeve dress pattern also come with a tank top that can be worn underneath, it features an elastic waist and comfortable skirt.
Want all 11 of these patterns? Get them here in the pattern bundle.
Happy Sewing!