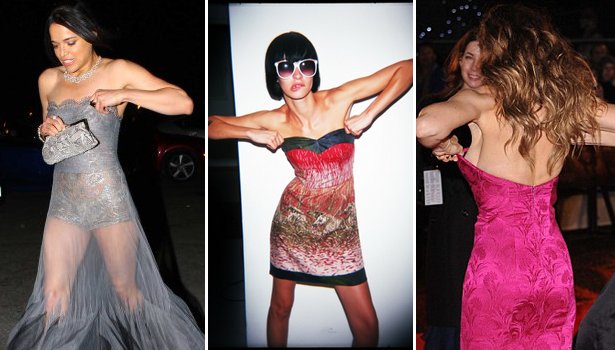 ShareThis
"Dress malfunction!"
"Help with strapless dress, please!"
"How do you make your strapless stay up?!"
Readers, these are just a few of the many, many cries for help from those who have had bad experiences with strapless dresses. Who wants to have a dress slide down and expose your bosom while you're trying to enjoy a night of dancing, right?
But wait, look at some solutions offered to solve this problem:
"… double sided tape your bra to the dress", or "wear a tight tube over the strapless bra
and then wear a dress over all of that… it's kind of wearing a strapless cami – good for
extra protection…"
Hmmm, readers…don't try this at home!
An easy trick, used extensively in couture and sometimes found in vintage dresses, helps avoid these problems with strapless dresses AND offers solutions to many other problems.
Some of you may already guess the answer! Right, it's the waist stay!
A waist stay acts as an internal stabilizer by anchoring a garment, usually a dress, at the waist. This helps minimize distortion in the upper part of the garment and prevents it from sliding down (or up).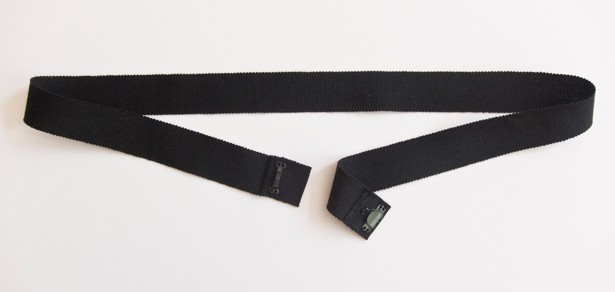 The waist stay, which is made from an approximately 1-inch (2.5-cm) wide grosgrain ribbon, is placed at the wearer's waistline and fits very snuggly. It usually has ½ to 1 inch (1.25 to 2.5 cm) less ease than the garment, depending, of course, on how fitted the garment is. Being shorter than the waist circumference of the garment, it is proportionally anchored to garment seam allowances. A hook and eye is attached to the ribbon ends, which are located just next to the zipper but not underneath it to avoid bulk.

The waist stay in anchored to the garment on the both edges of the grosgrain ribbon with catch stitches and waxed thread.
When I first discover the waist stay, I was so happy knowing that I could now confidently wear so many garments that used to make me feel very uncomfortable before. So, let us have a look at what garments would benefit from using a waist stay:
Strapless garments: a waist stay (combined with boning!) will provide support and prevent the garment from sliding down. You can dance non-stop without having to hold your bodice all night.
Fitted garments with zippers crossing the waistline: a waist stay will reduce the strain on the portion of your zipper at the waist, and extend its life.
Garments with deep V-back or neckline: those plunging necklines are not cut on grain in most cases, and require more stabilizing. In addition, without an anchored waist, such a neckline would tend to open up every time you change your posture. In some cases, you can add boning to the neckline to offer additional stability, but the waist stay is a good start for this type of garment.
Garments made of knits: with the waist stay, the part below the waist won't pull down the bodice, reducing distortion and keeping the seamline where it is supposed to be.
Maxi dresses: every time you deal with a lot of fabric below the waist, consider a waist stay, otherwise it will always pull the garment down. In maxi dresses, a waist stay will help keep that perfect length.
These are just a few examples, and I am sure you can find more reasons to use a waist stay. If you are not sure when, remember, that the waist stay is a great tool to fight gravity, as well as distortion caused by the moving body. The amount of fabric below the waist, grain, and type of fabric are important factors when deciding whether you need additional stabilizing or not. Some styles would also require boning.
You may ask, readers, what to do if the garment doesn't have a visible waistline or hardly any seams to anchor the waist stay to! This is a slightly trickier situation, but often, it can be solved using a corselet foundation. This a whole new story, however…
Have you used a waist stay in your garments? Please, share your experience or ask questions!
~Marina
Marina von Koenig is a couture enthusiast and blogs at Frabjous Couture, where she writes reviews of couture classes, books and resources and shares new techniques she learned and used to create her own garments. Check out her blog to learn how to make a waist stay and for additional resources.