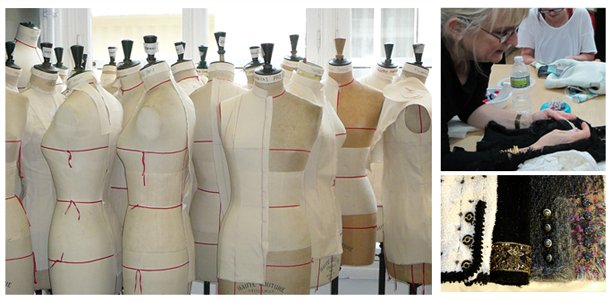 ShareThis
This week, BurdaStyle guest blogger Marina von Koenig dishes with couture sewing expert Susan Khalje on Valentino, the importance of fit, and keys to success when sewing a couture garment. Susan also shares her top 5 BurdaStyle pattern picks and gives readers some tips on how to customize and style these looks.
About six years ago, I was completely blown away by the craftsmanship and beauty of couture garments featured in an amazing documentary by Loic Prigent – Signé Chanel. I watched seamstresses gently tapping on panne velvet to grain it, dressmakers draping a couture wedding gown, or removing beads from a heavily beaded gown to make a tiny fit improvement. This is when, for the first time, I thought that couture, so seemingly inaccessible, was something I wanted to learn. But where?

My couture sewing journey started with an online couture hand stitches class with Susan Khalje. Since then, I have been to the Couture Sewing School she runs in Baltimore [several times], learn[ing] how to work with the most demanding projects and materials. One of the very few and sought after couture experts, [Susan is the] recipient of the Association of Sewing and Design Professionals' Lifetime Achievement Award, author of the coveted Bridal Couture and [the] lesser known Linen and Cotton, and [a] contributing editor [at] Threads magazine[.] Susan now dedicates most of her time teaching couture, not only at her couture school in Baltimore, but across the US.

In this interview, Susan shares her thoughts on why it is worth investing many hours of work into making a couture garment, and how couture techniques can be made accessible to sewers with different skill levels.




Susan's top BurdaStyle pattern picks (clockwise): 1. Double-breasted Paola dress (#BS-011 BurdaStyle) – also available in plus size; 2. Dress with bow in back (#116 Burda Style Magazine 08/2010); 3. A-line dress (#108B Burda Style Magazine 05/2011); and 4. Cap sleeve cocktail dress with metallic insets (#125 Burda Style Magazine 11/2011)

Marina von Koenig: Couture is often associated with the rich and famous. How is it relevant to a home sewer?

Susan Khalje: I think it's totally relevant – can a dish from a 5-star restaurant be tried at home? Of course. It's all about creating and appreciating beauty – and that can be applied anywhere, whether it's for a zillionaire or for you.


MvK: I have recently read on a popular fashion and style blog commenting on the Valentino Spring 2012 couture collection [the following:] "the final garment must at least showcase the intense work and world class craftsmanship that was put into it. Otherwise, why pay the exorbitant sum for something that looks like expensive ready-to-wear?" Do you agree with this opinion? What makes a couture garment different from an expensive ready-to-wear [garment]?

SK: Do I agree? Not necessarily – I think it's often precisely that world-class craftsmanship that makes it look effortless. What it has to do – one way or the other – is to make the wearer look spectacular. And if that can be achieved seemingly effortlessly, as I think a lot of the Valentino haute couture gowns did (when Valentino was at the helm), or on a more dramatic level – and I'm thinking of Alexander McQueen here, then it works. If we see a champion ice skater do a perfect jump, then it's effortless, but spectacular – and obviously we're aware of all the work it too[k] to get to that point, but it's made to look easy… so, effortless on the surface, but tons of work behind the scenes.

What makes it different from ready-to-wear is that the garment "works" – it fits and flatters the wearer beautifully, it's put together perfectly with couture techniques…. and that's hard to achieve in ready-to-wear. It all comes down to time and money – in the case of couture, there are no limits; in the case of ready-to-wear, both are limited. And of course, in ready-to-wear, the process didn't start with a muslin, as any couture garment does.




Sleeve fragments of quilted bouclé jackets by Susan Khalje

MvK: Some sewers are reluctant to invest too much time into garment construction. How does this time investment pay off in the long run?

SK: It's a very personal decision. To get back to the food analogy, you can get perfectly full with fast food, absolutely; but you can also prepare a gourmet meal. I think it depends on what you want the garment to do. A quick-to-sew summer dress to wear to the beach? Then just toss it together. Or, is it something really special that you want to feel spectacular wearing? And if it matters to you (and that's where it gets personal), then it's totally worth it – you end up with something that fits perfectly, something put together in the best possible way, something you feel wonderful in. In a sense, the dress is the means to the end; it's not just about the dress – it's about how you feel wearing it. And when it all comes together, you feel like a million dollars. That's the power of clothes. The rich and famous aren't just throwing their money away on these spectacular clothes – these couture garments do something very powerful for them.


MvK: What is the key to making a successful couture garment?

SK: I think it needs to combine innovative design + fabulous fabric(s) + proper fit and flattering proportions + beautifully executed construction + proper engineering. And they're all sort of interdependent – if any of those elements is lacking, then the result is compromised.


MvK: If you had to name the most important couture techniques to master, what would they be?

SK: Well, being able to fit something perfectly is essential – and that's tricky, it just is – but apart from that, I'd say that you've got to be adept with all of the hand stitches that are such a part of putting together a couture garment.





Susan demonstrates lace layout and cutting techniques for a class (Photo credit: Marina von Koenig)

MvK: You often say that couture sewing is logical, but what couture techniques are especially complex and challenging?

SK: Again, fit – and it's equally important partner, proportion – [are] tricky. Ultimately, that process is logical, but it takes a fair amount of experience to see what needs to be done, and then, how to do it. Also, I think the concept of underlining can be a little tricky to fully understand (and make use of), too. It can do so much, and it's pretty [underused] by most sewers. It's such a useful tool.


MvK: Besides the Couture Sewing School, you also teach online classes and have recently launched a couture dress class on Craftsy. With you not really being around, do participants need to have more advanced sewing skills to be able to make it?

SK: Not really – and I keep harping on this – I see the biggest challenge with online classes is fit. And obviously if someone is going to take the time to do a class, they want a beautifully made garment, but they also want it to fit. So many times I wish I could just get my hands on that muslin for 5 minutes! – so that's frustrating – and I don't know of any way around it, really. I think people just have to be prepared to be patient with that part of it, and invest some time in it. As far as skill level, I think as long as you're willing to do good and careful work, and want to take your sewing to the next level, then, I think you'd learn a lot. I know you would. Totally.


MvK: What are the most interesting discoveries participants make in your classes?

SK: I think one of the nicest things that happens is that the knowledge they already have is confirmed. Most sewers are self-taught, so along with that is a lot of self-doubt – there's not been anyone to tell [them] what they're doing is working – so it's nice to make people feel better about what they know already.




One of Susan's projects, a beaded skirt

MvK: How can couture enthusiasts build upon new skills they learned in your classes?

SK: Just keep studying – it's a process, a journey – and the fun thing about this kind of sewing (or about doing anything well) is that the scope of what you can learn and where you can take it is so vast that you just get better and better. The bar is constantly being raised – so the challenge is always there. And that's the fun of it, and the reward of being on the way to mastery of a discipline. I see it in my classes (the couture seminars), where I get lots of students who return again and again, so I get to see them growing, and applying their knowledge in different ways. They start with a simple dress, then the next time it's a jacket, then a gown, or whatever they want to tackle next. I'm thinking of a student who started with me at least 10 years ago (if not more) at The Sewing Workshop in San Francisco. While she was experienced, she had no confidence… she really didn't feel she could sew well at all… and now, after years of working together, she makes fabulous things: a charmeuse bustier and matching silk chiffon stole, an Alençon lace dress, a matching jacket, a silk and wool dress, the same dress in brocade (we've perfected the dress muslin), a matching brocade jacket, a Guipure lace top……it's great to see. So I like seeing students apply their skills to a range of garments; it's so satisfying for them – and I'm thrilled to see them grow.

For more information about Susan and her Couture Sewing School, click here. Marina von Koenig shares her couture learning experience on her blog Frabjous Couture (also available in German).