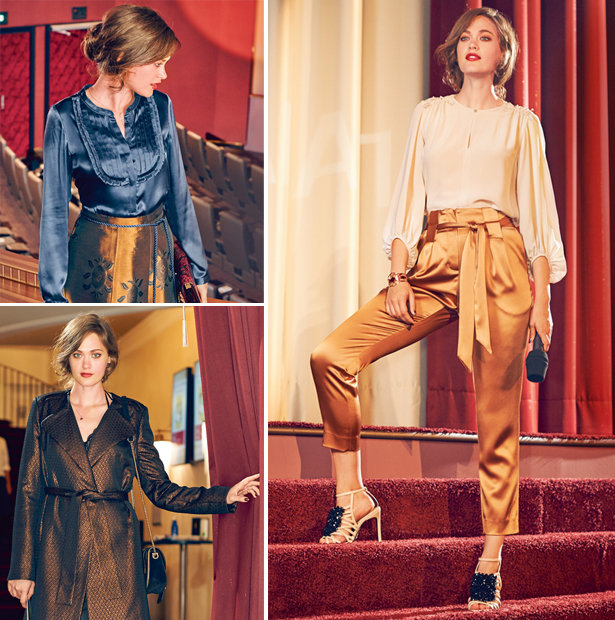 ShareThis
No better time to show off your newly made garments than a theatre show! This collection is from the 01/2016 issue of BurdaStyle magazine and includes some great coats, dresses, and blouses.
Click on the pattern image to go to the pattern store page…
This dress has a waist seam that sits at natural waist and allows the top portion of the dress to bubble and make the illusion of a two-piece dress.
This is one versatile blouse, it is loose in silhouette and has intricate details like gathers, drawstrings, and a unique sleeve opening.
A ruched ribbon through the the yoke seams makes this blouse unique and gives it an interesting shape. The 3/4 sleeves slope downwards to great interest.
This dress is irresistible and has lovely inverted pleats at the top. The fitted waist seaming and the flare at the hem gives the wearer a beautiful hourglass silhouette.
A pair of pants for the evening? This works if it is made from fine silk-satin! The pleats and the binding band provide the perfect finishing touches to these pants.
Who say's you can't have elegance and comfort all in one? This festive coat is slightly flared and made here in beautiful jacquard and is also lined with fleece for extra warmth!
Wide lapels, drop shoulders, and pockets complete this maxi length coat.
This tuxedo blouse has touch of retro glamor and 70s' style.
This flared gored skirt is made from luxurious jacquard with decals that make any plain blouse shine! There are seam pockets so you don't have to bring a purse!
No wardrobe is complete without a versatile shirtwaist dress! This one has wide sleeves and a back hem that falls longer than the front that end in a cuff.
Happy Sewing!