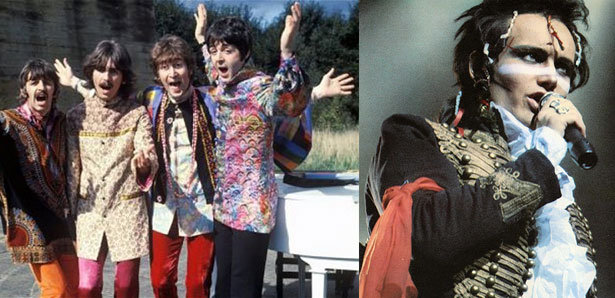 ShareThis
In addition to women's projects, our new book BurdaStyle Sewing Vintage Modern also features men's styles, including an adaptable button-down shirt pattern which can be turned into two variations (or more if you're up for it!). We chatted with David Leon Morgan, a BurdaStyle alum and contributing writer to the book, about creative inspiration and his take on how to style vintage modern.
1. Who are some of your male style icons?
I'm more inspired by moods than by icons, but my current favorite fashion inspirations of the moment are rappers and R&B singers of the late 1980s and early '90s, Frank Ocean, and Bill Cosby. I'm also really inspired by the clothing in strict religious sects, as well as street style.




2. Tell us about your inspiration for the two men's variations featured in the book (the David Tuxedo Shirt and Harrison Mandarin Collar Jacket).
We looked at a range of sources when researching the designs for this book, but a consistently strong goal was to feature looks that offered a fresh perspective on menswear. Current trends in men's fashion caters to a certain suit-and-tie, "dapper gentlemen," which isn't really something that I'm drawn to personally. With the looks in this book, we wanted to show aspects of men's fashion that were a bit more experimental, such as the Eastern influence of the Sixties, and the glam rock of the Seventies, but looks that were still accessible to the general male population. The Beatles and Adam Ant were particularly inspiring references, yet the final looks had a modern, less theatrical approach to items that may have been in their closets during their heydays.





Featured men's projects from the book, clockwise from the left: 1. The 1940s Frank Button-Down Shirt; 2. The 1960s David Tuxedo Shirt modeled with the 1960s Jackie Dress; and 3. The 1960s Harrison Mandarin Collar Jacket.

3. How would you recommend styling these looks to make vintage modern?
I would recommend experimenting, and figuring out what works for you. Fashion is all about personal expression and self-discovery. Personally, I would wear the tuxedo shirt with a pair of fitted khaki shorts and brown loafers. I think it would make a great summer look, although it would of course be perfect for a more elegant affair, as well. As for the Mandarin collar jacket, it would make a great fall jacket, paired with your favorite jeans and a nice pair of dress shoes. Again, this is how I would personally wear them. I would encourage anyone who loves these two pieces to explore looks and discover the ones that really resonate with them the most.

4. Where do you go for creative inspiration?
For inspiration, I'm really influenced by music and nature. I'm particularly obsessed with Brandy and Toni Braxton at the moment, and am always up for a long walk in the park. I also love the inspiration that comes with just making do with what I have. I love patchworks and things that are worn, and I love materials that suggest history and resiliency. I am also constantly inspired by personalities I see while people watching or overhearing conversations. Vocal inflections, laughter, nervous ticks, and other small human nuances are very inspiring to me.

David Leon Morgan is a writer, crafter, and singer. Check out his craft and personal style blog, and follow him on Pinterest, Twitter, Tumblr and Facebook.