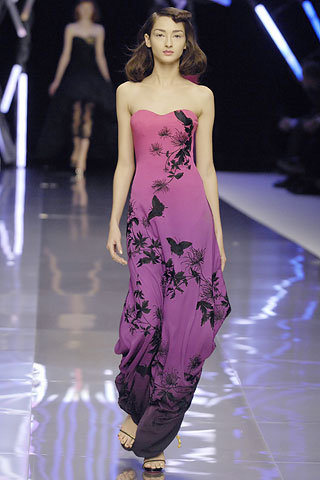 ShareThis
There are really only two responses to the edict pink is back. One goes something like, "Back? When was it ever out?" Girls in kindergarten, Southern debs, Legally Blonde heroine Elle Woods and women obsessed with making themselves into facsimiles of Barbie, via aggressive plastic surgery – that's one faction. The alternative reply, usually accompanied by a grimace and a mental referencing of much believed-to-be-forgotten feminist theory, tends to come out a long, guttural sound much like: Uggghhh.
Well girls, pink is back. John Galliano's 60th anniversary collection for Dior last season threw up the first major flares of a Pepto revival, as the designer did a victory lap around the storied house's ultra-femme, ultra-soigne past. Then Gucci's rockabilly-themed resort show added fire to the flame, and Frida Giannini's Spring/Summer show for the line made it official – again, and again, and again. (Methinks Ms. Giannini has been watching a bit much Grease. Also: Grease II.) Truly, her retro-themed paeans to pink proved some of the season's more ill-conceived looks, and there'd be nothing to reinforce the trend if not for Alexander McQueen.
McQueen's Spring/Summer show was one of the season's standouts, an education for less disciplined and original designers in how to use a personal design idiom to make vintage ideas new. Dedicated to the memory of his mentor and muse, Isabella Blow, McQueen's show took numerous key trends and pushed them through the keyhole of his own dark, Hitchcockian imagination. One of those key trends was the color pink. If you never thought that cotillion staple, the strapless pink dress, could ever look edgy, look again at McQueen's floor-length version, with its subtle ombre and gothic blackbird print. It's a lesson for all of us in the lost art of deviance: In order to be subversive, there must first be something to subvert. Enter pink.