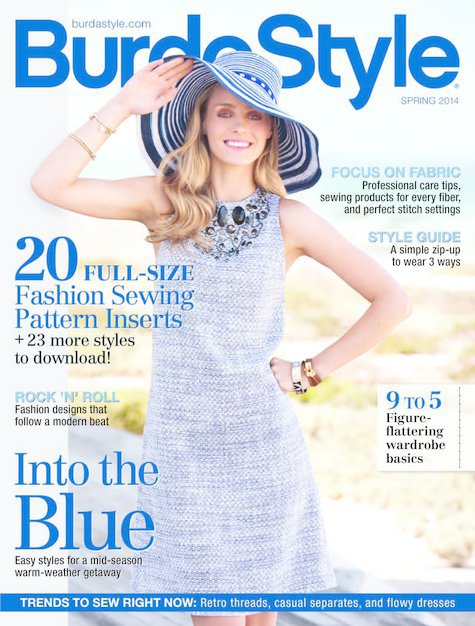 ShareThis
Springtime is fast approaching; the season of blooming flowers and new beginnings. You won't want to miss the spring issue of BurdaStyle US with our first-ever installment on fabric trends! Click below for a sneak peek of what's in store this season from our favorite textile designers.
Whether you're sewing clothes, quilting, or crafting, let your creativity shine this spring! We've showcased the latest fabrics in stunning styles throughout the issue, with plenty of colors and patterns to choose from.
Michael Miller Fabrics is all about subtle glamour with their alluring Glitz Collection. Soft, pastel shades receive the perfect amount of dazzle with shimmering chevrons and unexpected flashes of metallic gold. These prints can show up anywhere – from dreamy wedding gowns to modern-day cocktail dresses.
Moda Fabrics is bringing a smile to your sewing room this spring with the Color Me Happy collection. The simple designs and the vibrant color palette are sure to illuminate any sewing project!
Wee Wander by Sarah Jane for Michael Miller Fabrics offers a selection of whimsical and charming prints for children. Bursting with gorgeous jades, pinks, corals, and blues, this collection is gorgeously soft, ideal for apparel and quilting alike.
Iconic Fabric Collection by Camelot Fabrics takes us back to the 1960's, channeling legendary style icons Coco Chanel and Jackie O. With sophisticated geometric prints in pink, navy and neutral shades, this collection is both classic and elegant.
Rowan Fabric's Hapi by Amy Butler line is inspired by a love story rooted in an Egyptian holiday. The collection radiates grace and warmth with rich hues and bold, graphic prints.
See the spring issue for more details:
• Buy the digital copy of the magazine here, now on sale from $14.99 to $12.99!
• Buy a physical copy here of the spring issue
• Get a year subscription to the physical issue (if you're in the US) here
• Get a year subscription to the physical issue (if you're outside of the US) here
Tell us! What colors and prints are you excited to sew with this spring?