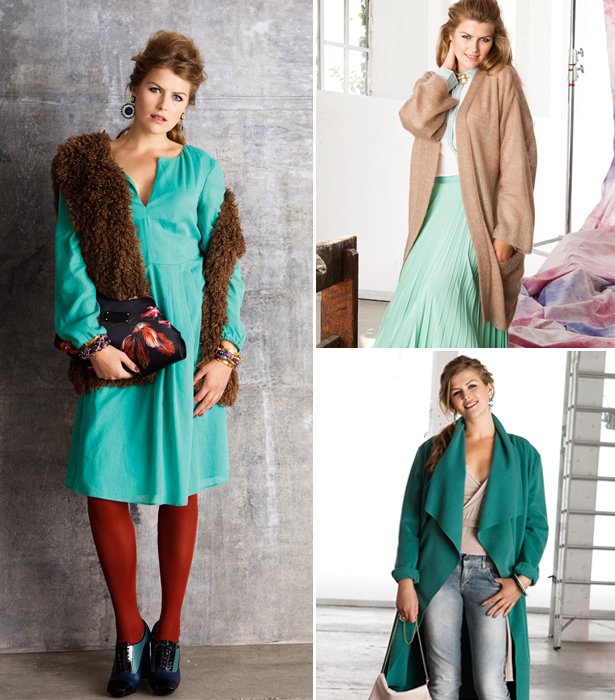 ShareThis
This week we bring you the new plus size pattern collection from burda style magazine's January 2013 issue. Soft mint, gentle shades of beige, a touch of gold and glitter are presented in these feminine styles with casual vintage details. It's a look that is casual – but also suitable for more elegant occasions.
This is a comfy and body-hugging Wrap Top. There is something seductive about this wrap-around shirt in super soft lightweight jersey, with its low-cut neckline and its neat fit around the waist. We love it paired with this full-length Pleated Skirt that goes great with any form-fitting top, and not to mention its lovely ribbon waistband.
This is the fastener-free Printed Tunic in lightweight, nostalgically patterned batiste with cleverly laid front tucks, is so sweet! Simply wear it with jeans to give it an everyday look.
Femininity and sparkle, but not overdone. This Sequin Coat is super glamorous, the straight cut ans softly draped collar also give it a less formal appearance. It looks fabulous worn with this full Tulle Skirt.
This vintage-style lambskin Vest with brushed surface, lends a casual touch to any outfit. But we especially love it worn over this Clean-Cut Dress with its high waist seam, low-cut slit neckline and wide sleeves that gather at the hemline.
This Jacket in softly draped jersey with integrated shawl collar is an all-rounder. It has certain elegance but also something comfortable and relaxed about it. It combines well with a sparkling top and casual jeans.
The many metal zips and topstiching give this fitted Zip-Up Vest in white leather a skilfully created shabby style.
A Loose Jacket that is so simple, yet it has such an impact! It is straight-cut, has no fastenings, and its edges are unfinished. The over sized integrated collar is a real eye-catcher as well.
This Jacket is made out of lovely mohair knit fabric. At the hem and pocket opening edges, stitches of the knit fabric are picked up on a knitting needle, then cast off.
Happy Sewing!