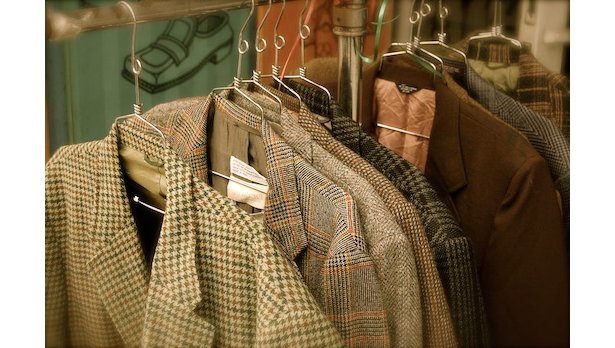 ShareThis
Let's face it: for the guy who wants to sew his own clothes (or for women who want to sew menswear), there aren't a whole lot of resources out there. In-print books like David Coffin's classic, Shirtmaking, are few. I've been writing extensively about men's sewing over on my blog, Male Pattern Boldness, and I'm delighted that BurdaStyle has given me the opportunity to address the topic here.
When I decided I wanted to learn to sew nearly two years ago I was very much alone. After a little online research, I chose a vintage Kenmore zigzagger as my first machine but, not knowing anyone who sewed, I wasn't sure where to turn for more information about sewing. On Amazon, I read great reviews for Diana Rupp's book, Sew Everything Workshop, which you may be familiar with. What's great about Rupp's book, beside her welcoming tone and excellent organization, is that she includes actual patterns for garments you can make yourself, including a couple of men's patterns. Rupp also tells you what you need to get started and how to set up your sewing space.
But what if you want to make more than just boxers or a tie. What do you need to know?
Men's clothes tend to be tailored, i.e., fitted to the wearer as opposed to draped on top; most guys don't wear wrap dresses. As a result, making men's clothes requires techniques and tools that many sewers may not be familiar with, like flat-felled seams (where one half of a seam allowance is folded over to encase another and then stitched down) to finish an armscye, or a 1/8" edge guide presser foot to ensure accurate edgestitching.
The best way to learn these techniques is to try them.
One of my first projects was a caftan shirt from a vintage pattern I found on Etsy (an excellent source for men's patterns, by the way). Caftans as contemporary men's fashion were heavily promoted in the early Seventies and pattern companies jumped on the bandwagon, producing endless variations including shirt-length, floor length, and the dreaded unisex, a word familiar to anyone over the age of…. well….anyone who remembers the Seventies.
Caftans were perfect for the free-spirited, jet-setting guy who simply couldn't be bothered with buttons. Or real clothes.
There are tons of men's caftans available online — many still uncut (I wonder why…) — and they can often be purchased for just a few dollars.
The beauty of the loose-fitting caftan as an experiment in menswear is that it has no collar or cuffs, doesn't require exact fitting, and is so comfortable as loungewear that it never needs to be worn out of the house if it isn't quite you. Perfect!
Sewing for men also requires some sewing notions you may not be familiar with or never knew what to do with. Here are five of my favorites:
1. Tailor's Ham
If you're a press-as-you-go sewer (and if you're not you should be), you're no doubt familiar with the tailor's ham. Hams are great for pressing shirt collars or any part of a garment that's curved or needs a curve pressed into it. I use mine all the time when I make shirts (and for almost everything else).
2. Point turner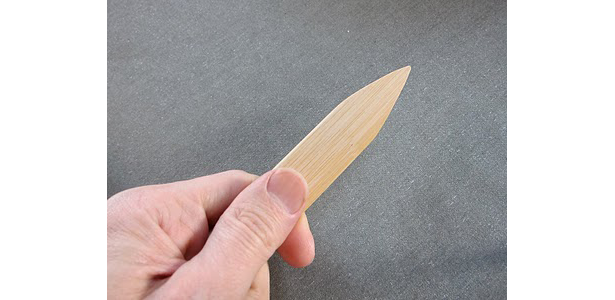 This little bamboo tool is perfect for shaping collars, turning facings — anywhere you need a well-defined, sharp edge. It's pointy enough to get the job done but not so sharp that it will break through a seam — unless forced of course. Parenthetically, David Coffin now recommends turning shirt collar with the aid of a hemostat (essentially, curved forceps). A hemostat can be bought cheaply on Amazon and when you're not turning collars with it you can remove your appendix.
Here's a tip: for best results, shape the collar point over the point turner, don't jab the point into the seam.
3. Sleeve board
I'll admit it: I held out a long time on this rather bulky tool because its purpose seemed so limited. That was then! Sleeve boards are, in my experience, the only way to press seam allowances down perfectly on a shirt sleeve. Seam rolls, you say? The problem with seam rolls, readers, is that they don't lift the whole sleeve or extend the full length. Sleeve boards do.
4. Point presser and clapper
This wooden tool is a mystery to many and up until recently difficult to find. Nothing presses a bulky seam allowance better than a wooden clapper (that's the heavy bottom part). It's not just the pressure it applies but also the way the wood absorbs moisture. The sharp point presser at the top is great for pressing seams open as well as getting into those hard-to-reach places. Add it to your sewing arsenal!
5. Edge foot
Anyone who reads my blog knows I'm a big fan of vintage straight stitch machines, and I'll be discussing those here on BurdaStyle soon. But if you don't want to buy another sewing machine but you are interested in accurate topstitching, an edge foot can help. There are a number of varieties of these. One, also known as a stitch in the ditch foot, helps to maintain an accurate edge at approximately 1/8". Another foot helps to maintain a 1/4" edge. Both feet are popular with quilters.
All these tools can help give you professional looking results.
Ready to give menswear a try?
Any caftan fans out there?
Thanks for reading!
When native New Yorker Peter Lappin bought his first sewing machine two years ago to hem a pair of thrift store jeans, little did he know he was initiating a journey that would bring him fame and fortune. While awaiting his fortune he stays busy writing "the world's most popular men's sewing blog," Male Pattern Boldness, and now contributing to BurdaStyle.
"For more than twenty years I'd lived on the edge of the Garment District without even knowing what a seam ripper was. Now I rip daily!"