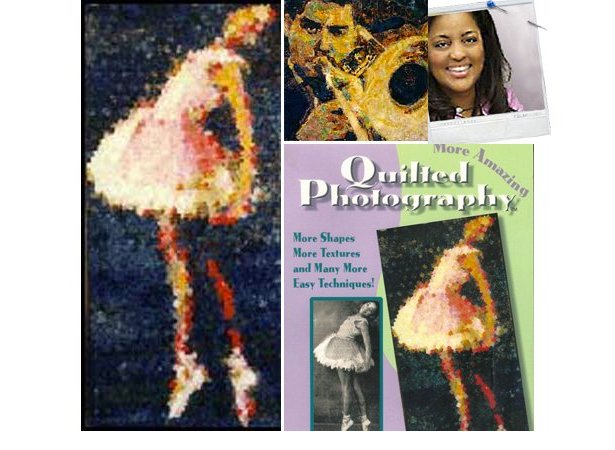 ShareThis
How a dream led me into quilting.
One night I woke up from a dream with an idea to do Quilted Photography. The idea was how to make photo pixels out of fabric and then sort the fabric by color value – I thought that my idea was either crazy or genius! It took me a week to try out the idea and I found out that my dream was a real gift…because it worked!
In my first career I was a fashion industry professional…but I had never made a quilt. In fact, the only thing I knew about quilting was what I saw on Simply Quilts and Quilt In A Day television shows. I had also never seen anything like this new quilting style, so I was inspired and very excited by it and my excitement grew with every new quilt I made.
I wrote my first book, Simply Amazing Quilted Photography, and decided to published it myself because it was rejected by one of the major book publishers. I pushed through publishing the book because I knew it was special and it turned out to be the best decision I've ever made. The book gave me instant credibility and because of it I was invited to be a guest on several quilting television shows.
When I was planning the "Unforgettable" ballerina quilt I was thinking about my grandmother, Faye Evelyn Taylor. Her examples of unconditional love and generosity were GREAT and I still feel her love and I am still inspired by it…I will never forget her. I lost her to Alzheimer's disease a few years earlier and wanted to make a Quilted Photo from a beautiful image I had seen of her as a young ballerina.
When I finished placing all of the fabric, I stepped back to see the image of my grandmother…it was amazing! But I was now faced with a new problem – I could see that the quilt needed really beautiful stitching. I was thinking freemotion quilting would be good, but unfortunately I did not have those skills!
After a few days the solution came to me: I would use my embroidery machine to quilt it! I made a digitized spiral shape and began hooping the quilt. I thought it would be easy but it turned out to be a very difficult process. I had to make over 400 spirals…. and I used metallic thread too! There was three full weeks of broken thread and broken needles. The only way I got through it was because of my love for my grandmother.
I decided to put the quilt on the cover of my second book and I took it around to some shows. It was even a finalist at a quilt competition in Houston, but unfortunately didn't win any awards. However it wasn't all lost because quilt artist/author Ami Simms saw me and my quilt at the show. The story behind the quilt and that my grandmother had died from Alzheimer's disease resonated with Ami because she was caring for her mom who was also suffering from the disease.
She called me a few months later to ask if I would allow her to display my quilt in an exhibit called "Forgetting Piece By Piece" to raise money for Alzheimer's research. The exhibit ended up running for 5 years and over 233,000 people saw the Alzheimer's quilts created by various artists. My quilt has visited 49 venues and one of them was the Shelbourne Museum and when my quilt finished touring in Fall of 2010, Ami again called to tell me that the curator from the Shelbourne Museum wanted to talk to me about buying the quilt for their collection! That phone call felt like a dream…
Each time I look at the quilt I am inspired again by the unconditional love of Faye Evelyn Taylor. It is so beautiful and has touched many other people too. They may think it is beautiful because of the stitching or because it is a ballerina or because of the amazing fabrics but I know it is because it was made out of PURE LOVE.
You can go see my "Unforgettable" quilt on display at the Shelbourne Museum in Vermont, and to find out more about the Alzheimer's Art Quilt Initiative go to alzquilts.org.
If you are interested in trying Quilted Photography for yourself, come to my website for some free video lessons and a free chapter from my best selling book! You can find me at: Quilted Photo, Free Quilt Class or on Facebook.
~Tammie
Tammie Bowser is a contemporary fiber artist. She is skilled at teaching this art to others. Her art reflects my ability to use color, light, fabric and thread. Tammie's photographic art quilts are surprisingly easy to make and have an element of magic that is exciting for young sewers and advanced quilters alike!
Tammie spent over 18 years as a fashion designer/ patternmaker in Los Angeles. She has been expressing herself in fabric since four years of age. She has demonstrated her ideas on "Simply Quilts", "Sewing with Nancy", The Smithsonian Craft Show and more.