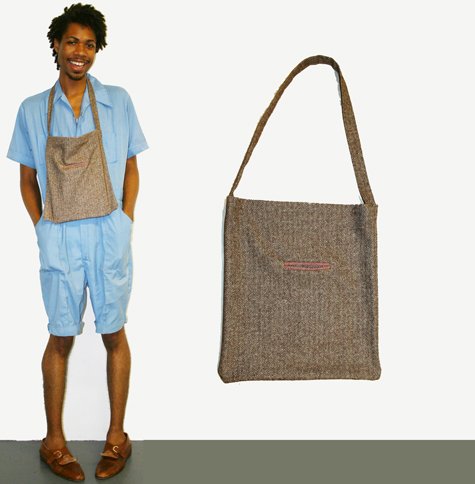 ShareThis
…Welt pockets. Yup, I am ashamed to say I got a B (or was it a C?) on my welt pocket assignment in fashion school. I just never got it down, nor did I care to practice, it was just too hard! I avoided pockets at all costs. And zippers. I made things I had to tug over my head and had to be a contortionist to get out of. Did I ever cut myself out of something? Absolutely. But that's another story.


My friend Matt's birthday is next week and seeing that all I have been able to think about lately is stuff boys might like to wear or use from my next collection for Dahl & Dane, I decided to make him a woolen bag with contrasting welt pocket. See, Matt is gay so he will carry a bag- he may even go so far as to call it a purse- and as he loves his Iphone, I made a special pocket in front so it will be easily accessible.


I created a tutorial for anyone else afraid of welt pockets, or anyone who wants to recreate this simple bag. Thanks to the wizard of sewing, Larissa, our pattern-maker extraodinaire here at BurdaStyle, for guiding me through this treacherous process. I think you'll be seeing some more welt pockets from me in the future!