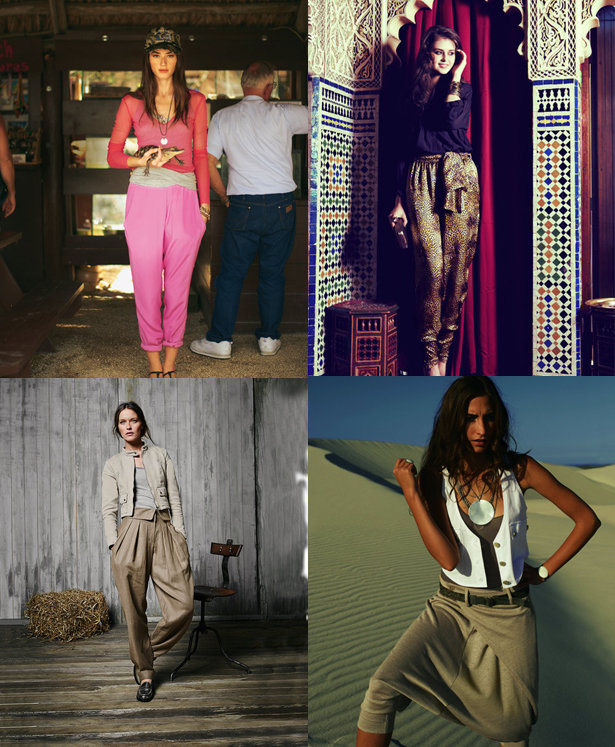 ShareThis
Project ideas and styling tips for one of summer's most popular and controversial trends. We show you how to wear harem pants and our favorite harem pants patterns!
Love them or hate them, slouchy pants of all styles are in for summer. Give these roomy trousers a try, and you may be surprised to find your new favorite summer silhouette!
There's more than one way to wear a pair of slouchy pants… think beyond hippie tunics and sandals. A slouchy pant with cuffed ankles looks chic at the office, and is a nice change from a skirt for marathon days.

Pleated Linen Pants, Print Trousers, Crossover Pants, Safari Pants
Styling harem pants for the office is easy. These styles have trendy volume at the hip, but won't look out of place in a conservative wardrobe. Try the Pleated Linen Pants, Print Trousers, Crossover Pants, or Safari Pants if you like the harem pant trend but aren't ready to go full out. Just add a silk tank and you're ready for work. These pleated and printed styles have plenty of style on their own, so you don't need a lot of accessories.
The harem pant trend also works for the weekend. You don't have to embrace the drop crotch look to wear a pair of slouchy pants to run errands.

Floral Elastic Pants, Fold Over Trousers, Long Harem Pants
Pants with a straight-but-slouchy leg and foldover waistband make stylish lounge wear. The Floral Elastic Pants and Fold Over Trousers are made from the same pattern PDF for two different looks. Wear them to the gym, to bed, or with a crop top out and about. This is a beginner friendly pattern that's so comfy. Feeling bolder? Rock the true Long Harem Pants.

Wrap Harem Pants, Harem Pants with Side Tie, Cropped Harem Pants
For the truly trendy, sewing your own harem pant pattern is the best way to get a perfect fit. All that volume can be tricky to fit off the rack! We like the Cropped Harem Pants, or the Wrap Harem Pants with a cool detailed front. The Harem Pants with Side Tie are one of our most popular styles with their girly hip tie. These styles are cropped below the knee so you won't be overwhelmed by fabric.
Here are a few more tips for how to wear harem pants without looking like a trend victim:



Stick with cropped or slim fitting tops so your figure isn't overwhelmed by fabric.


Add a high heel or a T-strap sandal to elongate legs.


Avoid ankle straps, which break up legs and are tough to wear with cuffed pants.


If you're short, try a cropped style.


Lighter weight fabrics look less bulky in drop crotch styles
If you try this trend, be sure to upload your project and show us how you wear your harem pants!
Top image, clockwise from top left: Fold Over Trousers, Leopard Print Pants, Wrap Harem Pants, Safari Pants