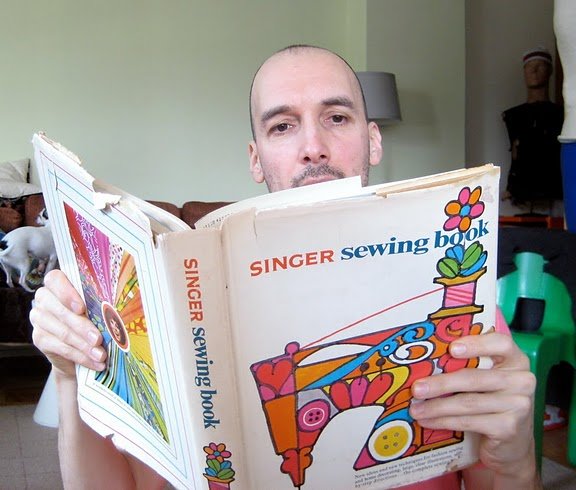 ShareThis
Readers, do you ever feel like you spend a disproportionate amount of your day talking/thinking/writing about sewing?
When you mention your sewing projects, do you ever catch friends or colleagues rolling their eyes, glancing at their watches, and suddenly having to catch the 5:15 train — and they drive to work? Do you yourself retreat daily to the comforting, marshmallow, everybody-sews-here worlds of sites like BurdaStyle or your favorite sewing blog?
Whether I'm writing about my sewing projects on Male Pattern Boldness, or about vintage sewing machines and men's sewing here at BurdaStyle, I find myself talking about sewing all the time. Sometimes I feel like the president of the Treadle Association of New York or the International Mens Sewing Alliance! (Is there one?)
But I often wonder if I'm converting anybody.
Are you familiar with the word meme? A meme is an idea that spreads throughout the culture, for example through a social networking site, till it seems that everybody has heard about it.
What's the best way to spread the home-sewing meme in your opinion?
Stated another way: How do we grow home sewing?
A few weeks ago I met up with a woman who reads my blog (a non-sewer), the friend of someone I met here at BurdaStyle. "Marie" is originally from France, and we met for coffee, visited the wonderfully wacky "Japan Fashion Now" exhibit at the Fashion Institute of Technology, and strolled through the Garment District. We talked a lot about sewing machines, sewing, blogging, fashion, you name it. I had a lovely time but I didn't get the sense that "Marie" was going to start sewing any time soon.
For one thing, she has our mutual sewing friend making a lot of her clothes!
I know many of you have been sewing for many years and have lived through the dramatic contraction of the home sewing industry: local fabric stores closing, fewer independent sewing machine manufacturers and vendors, an increased focus on quilting among the vendors that remain, fewer patterns for sale, and so on. It's admittedly depressing.
Yet at the same time we have all these sewing websites and communities, downloadable patterns, countless online fabric and notion resources, sites like eBay and Etsy where you can purchase old patterns, books, and vintage sewing machines, and countless sewing blogs. Nobody with Internet access needs sew in isolation!
Could it be that home sewing has bottomed out and is growing once again? Has a generation raised on H&M and Forever 21 soured on mass-produced fashion?
How can we successfully spread the home-sewing meme? What do you think would help convert non-sewers into passionate sewing fanatics? (What turned you into one?)
Have you ever successfully turned someone on to sewing? Did you actually have to give them a machine to get them started?
World conquest may not be within our reach — not right away. But a little benign evangelism never hurt. It's in our collective interest to take action.
Let's think strategically.
Ideas, people, ideas!
~Peter
When native New Yorker Peter Lappin bought his first sewing machine two years ago to hem a pair of thrift store jeans, little did he know he was initiating a journey that would bring him fame and fortune. While awaiting his fortune he stays busy writing "the world's most popular men's sewing blog," Male Pattern Boldness, and now contributing to BurdaStyle.
"For more than twenty years I'd lived on the edge of the Garment District without even knowing what a seam ripper was. Now I rip daily!"