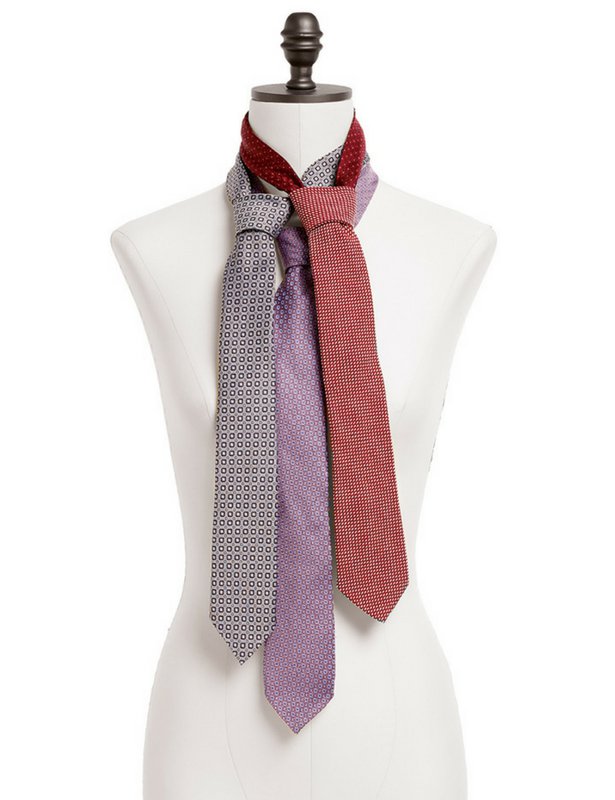 ShareThis
Just about every man (and woman!) needs a nice tie. With holiday season coming up your man may need a lot of ties, and just think of the possibilities… You could be major #couplegoals if he is wearing a matching tie to your dress because this pattern only requires a tiny bit of fabric and can be made from scraps. Read on to see the tutorial and download the pattern here to start:.
First here is what you'll need:
+ Remains of silk fabrics or jacquards
+ Small piece of lining
+ 1 Wool liner
+ Thread
+ Hand sewing needle
+ Ruler
+ Pencil
+ Pins
+ Scissors
+ Chalk
+ Tie pattern *ADD DESIRED SEAM ALLOWANCE AROUND ALL PATTERN PIECES!

STEP 1: Cut the tie pieces on the bias from tie fabric. Extract lining tip piece from pieces #1 and #3 to line and cut from lining fabric. The easiest way to do this is to lay a piece of tracing paper over the pattern and draw around tie tip to lining line, and do this AFTER you have added your seam allowances so you won't have to add again.



STEP 2: Pin piece #2 to pieces #1 and #3, right sides together and sew. These are seams 1 and 2 indicated by the small numbers on the corners of the pattern pieces.



STEP 3: On pieces #1 and #3, press your seam allowance to the wrong side around the tip. Also do the same for the little lining pieces.



STEP 4: Pin the pressed lining to the inside of the tie pieces placing the tip fold approx. 5mm from the tie fold. Hand sew in place. (Read about hand stitches here!)



STEP 5: Fold the tie right sides together in half and pin the edges together as pictured all along the tie from tip to tip. Sew at your seam allowance.



STEP 6: Now cut your insert from your #1 pattern piece (without allowances) and mark the center.



STEP 7: Align your sewn seam of the tie (still folded in half) with the center of the insert and pin as pictured. Re-sew on stitching line, attaching the insert to the tie.



STEP 8: Once insert is sewn to the tie, flip tie right side out and put insert in between tie and lining so it isn't seen.



You can also choose to sew a little tie tab at the back to insert the smaller piece into. Have fun with prints and try even making a matching pocket square!