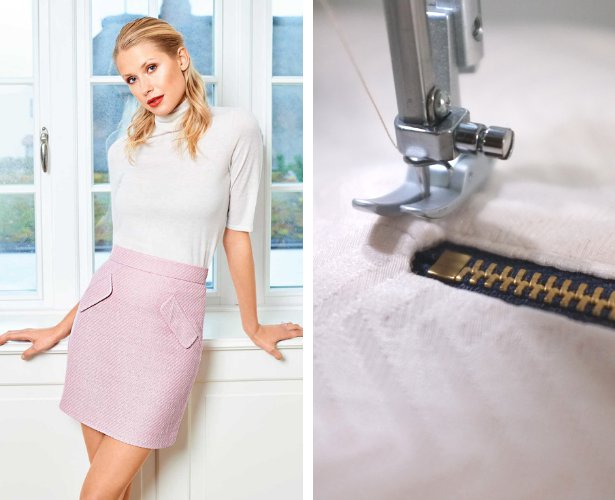 ShareThis
Exposed zippers are a fabulous way to add a little edge to your garment, and they're also super secure – no need to worry about the zipper breaking! But what if there is a seam? In the tutorial below I go over how to install an exposed with with a seam using small lining pieces that act as facings as explained and featured in our Mini Flap Skirt pattern.

Lay the back pieces right sides up.



This pattern has a little notch to indicate the bottom of the zipper. When adding the seam allowance, make sure to keep this different in center back edges!



Cut two small squares each 1 5/8″ × 1 5/8" out of lining. Use a matching colored lining, I used a darker color so you can see it better in pictures!



Pin each lining square matching up the corners of the back edge with the square.



This is right sides together with the skirt.



Using a fabric marking pen (this one disappears with heat) to mark the seam allowances onto the lining/facings. Mark 5/8" down from the notch and 5/8" from the upper/zipper back edge.



Stitch from the seam allowance line to the back edge.



Backstitch at the edges.



Stitch each side.



Then clip into each corner right to the seamline.



Flip each facing to the wrong side and give a good press – this will also make the markings go away.



View from the wrong side.



Also press in the allowance (to the wrong side) above the notch where the zipper gets stitched to.



Flip back up the facings/linings and pin the lower half of the center back seam below the zipper – pinning from the end of the facings/linings to the hem of the skirt.



View of the full seam.



Starting at the top of the seam (lower edge of facing/linings) stitch to the hem of the skirt at 5/8" seam allowance.



Press the entire seam allowance open and flip down the facing on the wrong side.



Secure with a pin to keep down in place and then flip over to the right side.



Pin the press side allowance to the zipper tape and match up the finished lower edge of the slit with the bottom of the zipper stop.



Working from the right side stitch about 1/8" from the pressed edge starting at the top.



Pivot at the base.



Then stitch up the other side of the zipper.



View of the bottom of the zipper!



Depending on the pattern the waistband/waist facing will be sewed up before or after zipper installation.



View from the wrong side: If you have a lining, stitch the lining from the skirt hem to the end of the zipper and press allowances to the wrong side for the zipper opening and hand stitching around the zipper from the wrong side.