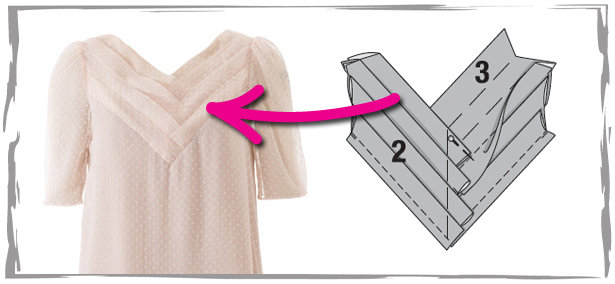 ShareThis
Last week's Pattern of the Week was our Drop Waist Dress that features this lovely pleated yoke detail along the neckline. Check out this tutorial on how to sew the intricate pleated yoke.
Once you master this yoke you can apply it to other sewing patterns, or make this dress pattern without sleeve and crop the hem for the tank! You can even cut have the pleated pieces different fabrics from each other or the main body fabric of the garment. So many possibilities for this wonderful garment feature.
Here's how to sew a pleated yoke…
Step 1- In order to lay the pleated ­piece at the centre front, later, it is important to trim the seam allowances (shaded grey) on the lower edges of the right and left pleated yoke pieces before stitching the pleats.
Step 2- Fold the right and left yoke pieces on each marked pleat fold line (start of arrow), wrong side facing in. Stitch 3.5 cm (1½ ins) from fold edge.
Illustration 2 shows the first ­stitched pleat and the folded ­second pleat of the right piece. Fold and stitch all further pleats in the same manner.
Step 3- Lay pleats in direction of arrows. Press pleat seams.
Step 4- On right pleat piece only, press self-facing to inside.
Step 5- Begin folding the front pleats at the top (corner of neck). Lay right pleat piece on left pleat piece, to meet marked ­placement line, matching centres, turning upper pleat on left piece down again to do so. Pin pleat in place.
Step 6- Beginning at fold edge, stitch lower end of pleat in place with a narrow zigzag stitch.
Step 7- Turn upper left ­pleat up again and pin in place, ­turning 2nd pleat on right piece down. Stitch the pleat in place with zigzag stitch­ing.
Step 8- Fold and stitch the remaining pleats in the same manner. At the bottom point, baste edges together. On the back of the pleat piece, clip the seam allow­ances of the right facing and the left ­pleat piece together, arrow. Neaten inner facing edges.
Step 9- Line and attach the yoke:
On each yoke lining piece (piece 6), trim away seam allowances on long ­angled front neck edge and on short edge, as far as seam mark.
Step 10- Stitch centre front seam below seam mark. Press seam allowances open.
Step 11- Lay yoke lining on pleated yoke, wrong sides facing, matching centres. On shoulder edges, the seam numbers 2 must match.
Step 12- Slide right half of yoke lining under pressed-under right facing and pin in place. ­Baste left facing to lining and press edge.
Step 13- Pin inner facing edge in place. First topstitch 3.5 cm (1½ ins) from left neck edge, ­catching the inner facing edge. Then topstitch the right neck edge in the same manner.
Step 14- Baste layers together along shoulder edges, armhole edges, and yoke ­attachment edges. Stitch front yoke to front (seam number 1) clipping seam allow­ance of front into corner to do so.
This pleated detail at the neckline means that you don't need to wear a necklace since it is the shining star of the garment! Wear this dress on a day trip or to a tea party and pair with delicate accessories.

A-Line Skirt with Pleated Yoke; Shift Dress with Side Pleat
Happy Pleating!
Are you a fan of pleats? Let us know and link to projects you have made with pleats!