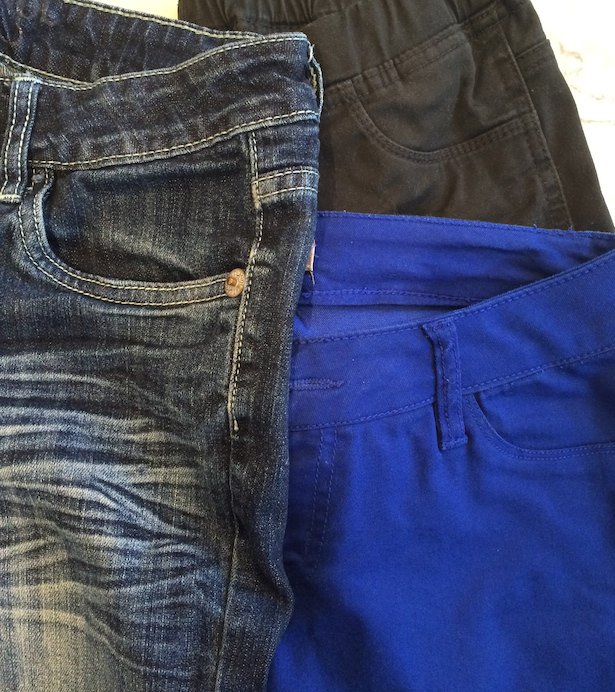 ShareThis
A hip pocket isn't difficult to sew. You just have to do the proper steps in the right order!
A hip pocket is also called an inset pocket, and to give you a visual, it's the front pocket you see on a pair of slacks or jeans. Whether you're sewing a dress, skirt, or a pair of pants, you'll assemble the hip pocket or inset pocket before you sew the side seams and before you attach the bodice or waistband.
There are three pieces involved in sewing an inset pocket:
- The garment front (left; this will be either the skirt front or the front leg of a pant pattern — my garment front is just a portion of what the piece would look like because this is just a sample)
- The inner pocket (center; this is most often sewn from lining in order to reduce bulk)
- The back pocket (right; this will be the garment fabric unless you choose a contrast fabric for a peek-a-boo detail effect)

I recommend finishing all of your raw edges first, since they're tricky to finish once sewn together. After that, here are the steps to sewing the pocket:
1. Sew the garment front to the inner pocket at the top pocket edge (the curved edge), right sides together.


2. Press the seam you just sewed flat, then clip and grade your seam allowances, and press the seam allowances toward the inner pocket


3. Understitch to hold the seam allowances to the inner pocket, and press the inner pocket


4. Sew the inner pocket and back pocket together along the curved edge, right sides together


5. Baste across the top and sides of the garment only where the inner pocket is (I also topstitched the garment along the pocket opening so it's easier for you to see that opening.)

Have you sewn an inset pocket before? They're not as hard as they look. I hope these steps help you navigate the hip pocket with ease!