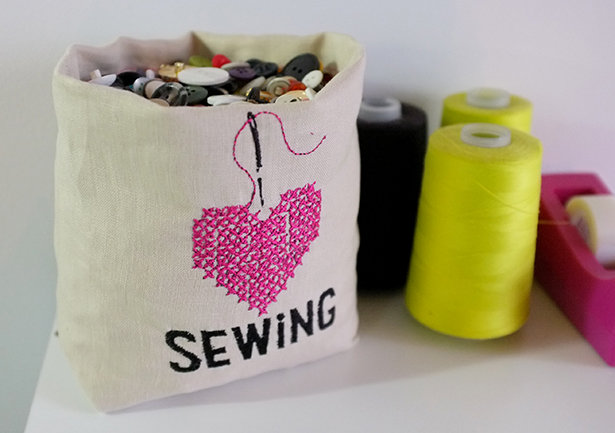 ShareThis
Show you love for sewing this Valentine's Day and keep organized! Make this fabric standing pouch for yourself or your Valentine and fill it with goodies that you know they will love.
Step one is to embroider a piece of fabric, I used this awesome I love sewing embroidery template on a piece of scrap linen (the same fabric I used for my apron).
I'm always so mesmerized by my embroidery machine (this is the one I have and use).
Once the embroidery is complete, cut two 10" X 10" pieces of fabric (centering the embroidery on one). Then interface both pieces, you may need to double interface if your fabric is lighter-weight. Sew the two sides and bottom edges together at a 1/2" seam allowance.
Pinch the bottom corners and pin match the seams together.
From the corner, measure in 1 1/2" and chalk mark a line.
Sew along marked line and trim seam allowance to 3/8".
Cut two lining pieces at 9" long by 10" wide.
Sew sides and bottom together leaving a 3" opening along the bottom edge for turning the pouch right side out. Pinch and mark the corners the same way as the outer pouch.
Pin the lining to the outer shell right sides together also matching up the seams. Sew around entire circle.
Through the bottom opening in the lining, pull the entire pouch right side out. Once pulled through stick hand in opening and "poke" the corners of the outer shell. Pin and sew lining opening shut either by hand or machine and put into outer shell. Topstitch around the top edge where the lining is sewn to the outer pouch.
Fill standing fabric pouch with whatever you like! Since the lining is cut 1" shorter the outer shell will roll inside. I filled mine with tons of buttons!
Personalize the pouch with hand embroidery or appliqué if you don't have an embroidery machine. Make it personal and one of a kind.
Happy DIYing!