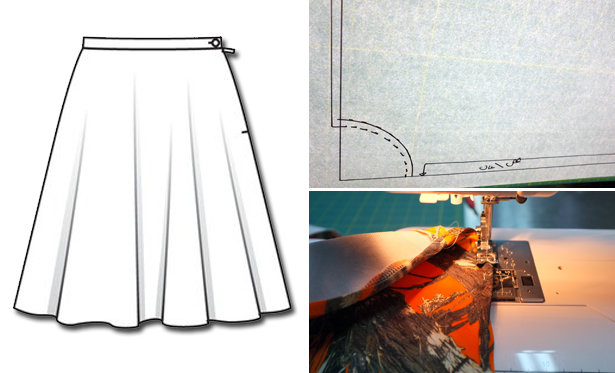 ShareThis
Circle skirts are one of my favorite styles… they're so easy to wear and are ultra flattering. See how to draft your own made to measure circle skirt, and my trick for sewing the perfect hem!
There are a few different variations of a circle skirt for you to choose from. A full circle skirt has lots of volume and movement, and uses a fair amount of fabric. A ¾ circle skirt allows for the breezy movement of a full circle skirt but has less volume. A half-circle skirt resembles a flared skirt, and is usually what you see on skater-style dresses and skirts. A ¼ circle skirt looks similar to an a-line silhouette.
Before you begin drafting your skirt, you need to determine your waist measurement. Calculate the radius of a circle (the distance from the center to the edge) using your waist measurement as the circumference. Using a 29" waist as an example, here is the formula for a full circle skirt:
r = c / (2π)
r = (29) / (2π)
r = 4.62"
So first, draw two long lines that form a right angle.
On each line, Measure and mark exactly 4.62" from the corner of the angle. Mark 4.62" from the corner along the space between both lines. From this new line, measure and mark the desired length of your hem.
Blend your marked measurements to form the curved hem and waist seam of your skirt. Add ⅝" seam allowance along the side seam, hem, and center back. Cut 2 back pieces. The skirt front will be cut on the fold. To save paper you can simply fold back the center back seam allowance and use the same pattern piece to cut the front on a fold.
Once you've sewn your skirt, finishing the hem is the final step. A narrow, double turned hem creates a clean finish along a rounded hem. If you opt to sew a wider hem, you may have to sew an ease stitch along the edge of your skirt, and gather the fabric slightly as you press your hem to avoid puckering.
I decided to serge the hem of my skirt first, which acted as a guide for sewing a perfectly even hem.
I turned the hem up along the serging line, pressed, turned it up and pressed again, and then topstitched the hem in place.
Here are the formulas to use if you decide to sew a ¼, ½ or ¾ circle skirt instead.
¾: r = (1.33 x c) / (2π)
½: r = (2 x c) / (2π)
¼: r = (4 x c) / (2π)
Some BurdaStyle patterns, like the V-neck Flutter Dress, include instructions for a draft-it-yourself skirt. You can also find free circle skirt patterns in the pattern store, such as the Pleated Circle Skirt and the Gathered Circle Skirt.
The lightweight, breezy feel of a circle skirt makes it a must-have summer style.
Happy Sewing!
Meg