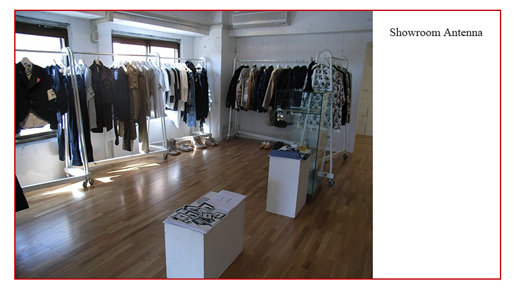 ShareThis
As I mentioned last week I had recently settled on my first showroom which meant there was much work to be done! If any of you are familiar with the inner-workings of a showroom you can pass over this part, but I just wanted to explain to the readers who are not in the know, what a showroom is and what a small fashion label like my own will gain from working with one.
A showroom is a space in which various designer labels are on display, usually in a large, studio-like setting. The showroom is run by a team of people who fall under titles such as: owner, rep, press agent, interns, etc., and these people are responsible for selling your collection to buyers from department stores & boutiques from around the world. Mainly a showroom is private, meaning it is not open to the public and an appointment must be made with the rep in order to come and view the collection (if you are a buyer or press agent). The showroom will also take your collection on the road and visit various cities and set up in-store appointments with potential clients, and also visit fashion week markets such as Coterie, D&A, Bread&Butter, Pool, etc. The showroom usually charges a monthly fee (sort of like a rent payment for the space utilized by your collection) and they will also make a commission off of the sales they acquire for you. It can be a win-win situation if you find someone you trust who loves your product and really wants to push it.
In the showroom your collection will be hanging on it's own rack. One sample from each style or color way will be on display as well as look-books, line-sheets & order forms. Each sample will have a hang-tag which relays the style number, sizing options, color-ways, ship dates & price. This is where branding becomes very important, you want to make sure you are using a logo you love that is cohesive & coherent and that you choose your fonts, labels, hang-tags & stylistic elements wisely.
I have an appointment with Barneys New York next week and for this I am very excited. Usually the designer is not present during the showings. I personally do not like to be there when others are critiquing my work. I do appreciate constructive criticism and always ask my rep what the feedback has been, but I find it more professional to not be present during these showings. My rep, however, has asked me to be present during the Barneys appointment as they want to meet me! For this session they will hire a model to come in, like they used to in Coco Chanel's days, in her couture parlour in Paris. The model will try on the collection for the buyers to be able to see how the dresses fall and move. I am very nervous & excited for this meeting & I will let you know the outcome!