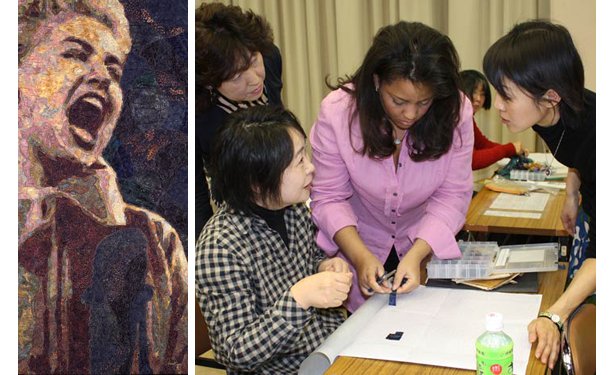 ShareThis
I woke up much too early in the morning on January 21st, 2009. I guess I really did not want to be late for the flight that was scheduled to leave later that day. I was awake because of my excitement about the amazing experiences ahead of me: my first trip to Japan! I couldn't sleep so I decided to double check my bags to make sure they contained all of my quilts, the special gifts for the new friends I was expecting to make, and comfortable shoes!
I've always admired the wonderful quilts made by Japanese quilters. My expectations were high because of the amazing Japanese quilts that are at all of the major quilt competitions and exhibits. They are so meticulous because the Japan quilters pay such close attention to detail, so I wanted to make sure I was bringing my best (and most beautiful) quilts to show them. I was chosen as winner of the "Japan Award" at Quilt National and was invited to visit Japan to teach my photo quilting techniques to these highly skilled ladies! I was a bit nervous because my style of quilting is anything but meticulous!
As I was flying over the Pacific Ocean, I kept thinking through the technique that I had prepared to teach them. The lesson was called "Amazingly Contoured Quilted Photography". When I arrived in Tokyo, I was please to see the familiar face of Ryoko, the lovely lady who presented me with the award at "Quilt National" and I was especially pleased to meet Nao, the beautiful and friendly young woman who would interpret my lesson into Japanese.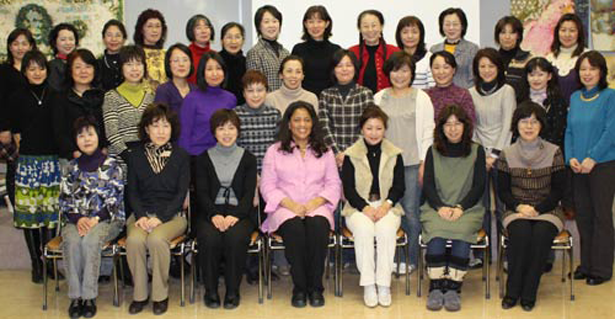 Me with my Japanese quilt class.
Before I got on the stage I felt a little nervous about being able to explain my ideas, but my fear went away when I looked out at the ladies and saw a sea of smiling, friendly, beautiful faces! I began my lesson by showing them a quilt of my niece. It was a very simple quilt and an easy way to explain what is possible when you understand what a pixel is. Pixels are little squares of color/value, they are commonly used on computer and television screens, newspapers and books but can also be made of fabric to create images just like I'd done for the quilt of my niece.
Next, I wanted to introduce the idea that pixels do not have to be a square. Just because an ordinary pixel is a square, does not mean that you have to cut your fabric "pixels" into squares. In fact, your photo quilts will look more like a painting and less like digital photo if you place your fabric pixels in a random way. After sharing my ideas about pixels and how to make the photo quilts look more like paintings, I knew my students were ready to learn the "Contoured" technique. This is the technique I used to make the winning quilt…the quilt that won me this amazing trip to Japan!

To illustrate this idea showed them a quilt of a baby that I made with scraps leftover from another project.
By this time, about halfway through the lesson, I started to forget that we did not speak the same language – I really felt comfortable and at home. It made me realize that when people come together because of a mutual interest, friendship and understanding happens naturally.
To help the ladies understand how to make a "Contoured" quilt, I showed them a diagram. The diagram illustrated that pixels do not have to be cut one by one as separate pieces. If a number of pixels have the same color/value and are next to one another, you can make them one larger piece. To do this technique you will group the matching pixels together and smooth out all of the corners making a "contoured" shape.
To finish my lesson, I taught the class about choosing fabric, freemotion quilting, what kind of thread to use and beautiful ways to embellish the quilts. I also gave them a demonstration of the computer software used to make patterns for the "contoured" photo quilt technique.
During my visit to Japan I had the privilege of teaching my quilting techniques but I also got to enjoy the sights of Tokyo. I went to a giant quilt show at the Tokyodome, attend a Sumo tournament, rode the bullet train to Kyoto, visited beautiful temples, ate lots of sushi and experienced the night life in Osaka.
This trip brings back so many happy memories for me: my classes were a great success, I made great friends that I really hope to see again, and I experienced kindness that I never expected. Although I must admit that I can't remember all of the names of the many people I met, I will always remember the beautiful smiles of each one of them and the way they referred to me as Tammie-son.
~Tammie
If you are interested in trying Quilted Photography for yourself, come to my website for some free video lessons and a free chapter from my best selling book! Hurry while the lesson are still free! You can find me at: Quilted Photo, Free Quilt Class or on Facebook.