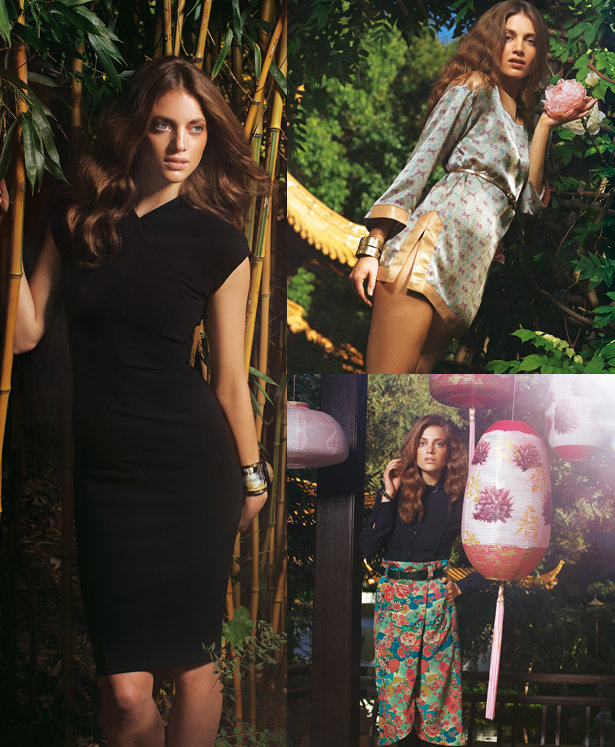 ShareThis
Cheongsam-inspired dresses, floral silks, and wide legged swingy pants are luxurious with hints of Asian style. These patterns are from the February 2012 issue of Burda Style magazine. All instructions for previously published patterns have been updated.
The Tunic Dress with Slits takes inspiration from beautiful Asian garments. Pick a watercolor floral or gem tone like ruby or aquamarine for this simply elegant dress.
Unusual elements like a loose high waisted shape, wide belt, and bold floral combine for an outfit-making Floral Wrap Skirt. A great piece for days when you just don't know what to wear.
This tight-fitting version of the traditional Chinese Cheongsam Dress was made popular in 1920s Shanghai and is a stylish, beautifully fitting piece of clothing. Also known as qipao or mandarin gown. Make it modern with a pop of neon!
Finish your outfit with a clean lined Simple Long Coat with Pockets. It looks elegant with the swingy Relaxed Trousers and strappy sandals.
This Mandarin Inspired Dress has hints of Asian style, like a mandarin collar, but the form-fitting silhouette is all modern. Show off those curves with diagonal seam lines.
These High Waisted Pants are so slimming! A high waist with no pockets or waistband smooths out your curves for a beautiful long line. Tuck in your blouse to show off the panel at the back.
This Silk Robe is luxurious for the boudoir in a beautiful printed silk fabric. Make it in cotton for a spring house coat, or even flannel for a warm and cozy feel. This can also double as a coat!
Practice your sewing skills with this beautiful Mandarin Collar Jacket made with printed silk satin, finished with binding and backed with batting for the most authentic look.
You'll want a luxurious crêpe de chine print for this classic lounging Kimono. It cinches at the waist with a sash for glam style at home or out.
More relaxed than slacks but more tailored than true pajamas, these Pleated Wide Trousers have glamorous style with a soft top. A great pick for long days at the office or a casual first date.
A little Asian inspiration gives this collection fantasy elegance. Slouchy silk pants and kimonos keep you glamorous when you want to be comfortable, and cheongsam inspired dresses flatter curves when you want to flaunt your shape out dancing. Let yourself be transported!