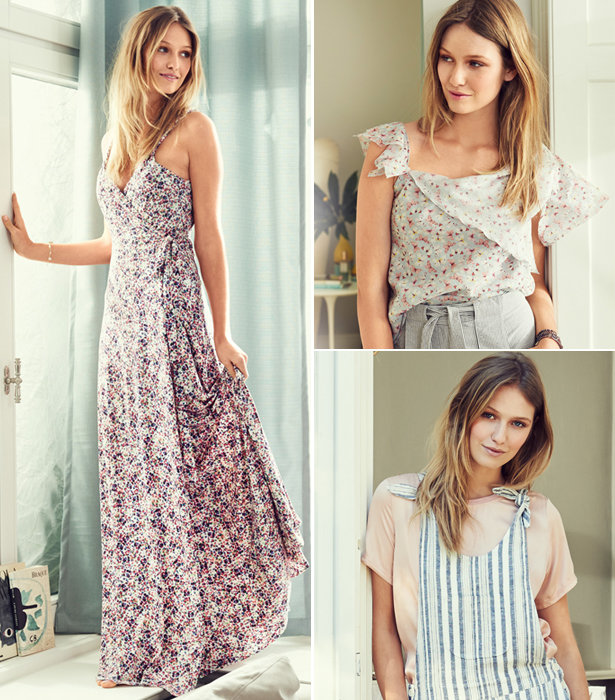 ShareThis
Butterflies, flowers and striped prints give these outfits from the July 2016 issue of BurdaStyle magazine playful details that have a romantic fashion flair.
Click on the pattern image to go to the pattern store page…
This sweet drop waist dress sewn with plumetis chiffon is sure to be a summer wardrobe highlight. The neckline yoke is plaited in a couture pleat design, puffed sleeves and a ruffled hem are unlined for a semi-transparent look.
Layering at its most beautiful! The lining of this design with the flutter sleeves and asymmetric neckline extends beyond the lower hemline – for a hint of a slip dress tier. If the exposed lining layer doesn't fit your style, sew the dress through the hem step and let the dress hang for a few days on a hanger. Shorten the lining to the same length as the dress and finish the hem.
A delicate trace at the neckline of this blouse is created by the asymmetric flutter sleeves and neckline that are bordered with a sewn-on flounce. The soft, transparent outer fabric is lined for an opaque finish. The tiny flutter sleeve flounces are un-hemmed because they drape beautifully when left alone. For those who prefer a hemmed finish, it is best to choose a very narrow zigzag stitch.
This tie neck blouse has a sweet and delicate look with its dreamy butterfly print. The neck band, yoke and sleeve hems are decorated with ruffles.
Overalls are the must-have item of the season. This playful version is sewn in a summery linen rather than a thick denim, and the straps get tied rather than having a buckle.
A tying belt, rounded extra large pockets that extend over the waistband and turned up hems are highlights that make these shorts sewn with a press-free seersucker into a go-to fashion piece.
The free-flowing drape of the flounce that is secured into the tips of the front yoke adds an extra swing to the the above-knee slip dress. The thin support straps are slipped into the front and back piped neckline. Since the straps are directly attached to the neckline, they cannot be easily shortened during the final fit. Pinning or basting the piped strips before the final sewing, and trying it on for fit, is recommended. This will help ensure if an additional centimeter either way is needed to let the neckline sit properly.
Romantic and simply stunning can describe this wrap maxi dress that binds at the side and features an abstract print and twisted straps.
Get all of these pattern styles at a discount in the pattern bundle here!

Butterfly Printed Cotton Voile; Butterfly Digitally Printed Mercerized Cotton Woven; Gray Floral & Butterfly Printed Jacquard.
Happy Sewing!