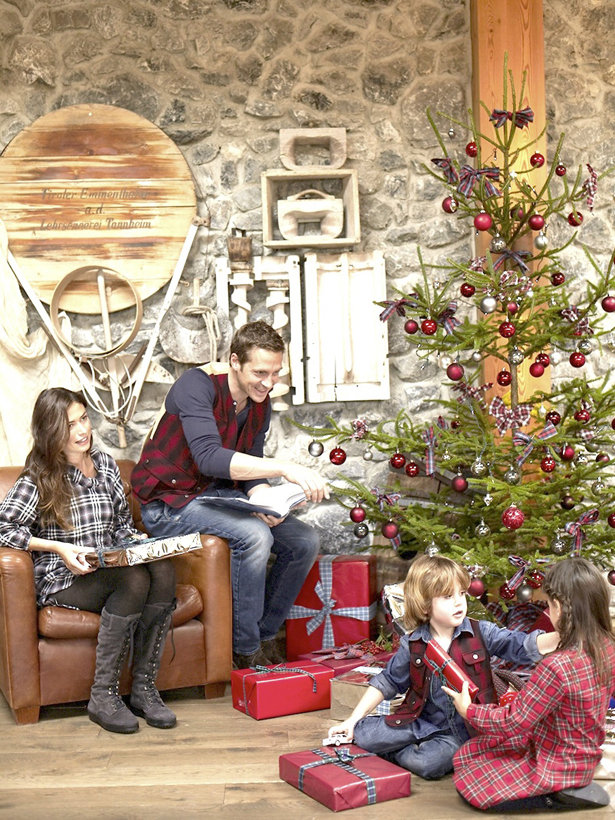 ShareThis
It's the most wonderful time of the year! This week we bring this wonderfully homey pattern collection from burda style magazine's December 2010 issue. These patterns are for the whole family, and include fun accessory patterns that would make great home made gifts.
This rustic Boy's Cargo Vest in wool check is perfect for every young man. It is also very practical with the buttoned pockets on the front.
What a cute pair in the kitchen! This Girl's Apron made of denim also has a border of rickrack for that special holiday touch. Don't forget about mom's Apron that protects against all the dangers of the kitchen, and looks simply chic! The gathered waist additionally makes a nice figure.
This long calf-length Skirt in bright red fits in exactly with this time of the year. It is very chic looking and would look great with a nice turtleneck tucked into it.
Checks are such a timeless print. This long Checked Tunic with side slits has a long but narrow turtleneck and is perfect for those lazy days.
Babies need these Jumpers for freedom to move well, the parents are also happy about the ring handle on the leg seam – makes for a smooth diaper change.
Like father like son! Everybody needs something to sleep in, and lounge in, so why not these cool and cozy Men's and Boy's pajama sets. The pattern includes pieces for both the top and bottom.
This cute knee-length, flared Girl's Dress in plaid has a small collar and ruffling on the sleeves.
These Children's Booties are made from imitation lambskin that also give these booties a great seam finish. The sole is reinforced so they are safe to run in.
Even dads gets a Cargo Style Vest in soft suede leather and plaid. May we say how manly this vest looks, and oh so practical with all the pockets. Would make a great fishing or hunting outfit addition!
Just the right size, this Overnight Bag has reinforced corners and piped in the same fabric. The pocket receives a cute nameplate and Owl pendant that adds a more personal touch.
This ankle-length Girl's Nightgown in soft jersey will make even the most restless princess slumber quickly.
This Sleep Mask and Neck Pillow are a great gift to make for a frequent traveler. Also a practical way to use up scrap fabrics.
This slightly flared Mini Skirt of woolen checks is cozy and has waist darts, which are sewn horizontally for a change! These would look great paired with opaque tights, and a cozy sweater.
Happy Holiday Sewing!