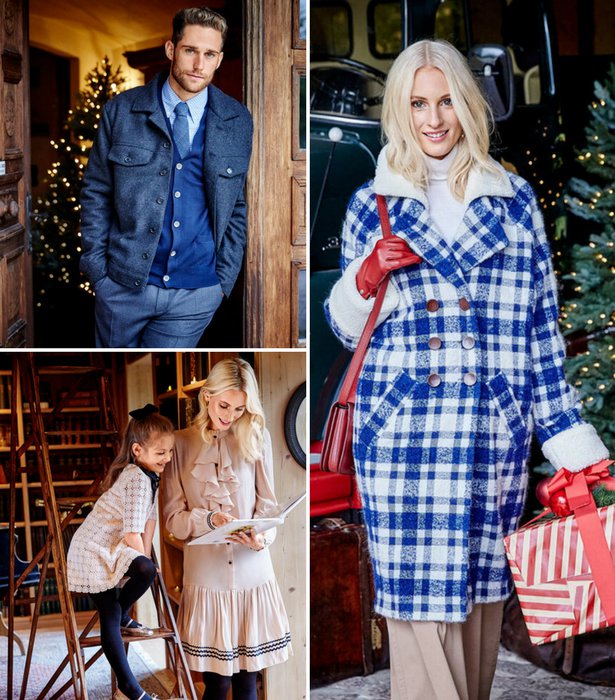 ShareThis
The family is coming together for the holidays and celebrations can begin with these comfortable and elegant styles with a British look – for her, him, kids and the dog from the 12/2017 issue of BurdaStyle magazine.

Do you have a wardrobe full of jeans? This style is surely one to add to the mix! No waistband means that figure-shaping darts and a button front form the waistline. The hems get a fun kick with decorative flounces.



A standing collar with pleats, gathered sleeves, softly cascading flounces and a skirt panel reminiscent of a flapper fashion: swoon. This feminine dress is beautifully detailed. Perhaps the finest detail that adds an extra sophistication is the topstitched ric-rac trim in a contrast black.



These trousers with the waistband sewn in a plaid wool flannel are very comfortable and absolutely on-trend. The wide waistband is made to have the look of a belt with the two buttons keeping it in place. They are actually closed at the waist with an integrated invisible zipper.



Christmas eve is a time to be extra festive – though being cold isn't the preferred choice. This elegant and slightly flared at the hem 3/4 peek-a-boo sleeve lace dress is just right. The drop at the neckline is decorated with a band of black velvet trim that can be tied into a bow. The sleeve hems have the same touch of velvet.



This knee-length coat with the welt pockets is sure to be a winter favorite with its cosy wool plaid that gets a fun element of imitation fur at the collar and rolled cuff sleeve hems. A modern, rustic flair comes from the double row of leather buttons. The look can also be elegant sewn with a sturdy solid colour wool and buttons that blend.



This dress in the vintage look with the topstitched trim at the hem looks effortless and relaxed. It draws in with an elastic band at the waist to pull toward the body. Flat inserts in the shoulder tuck away the gathers perfectly.



A throwback look to a retro ski sweater style that also works on milder days as a jacket. This one is sewn in the XL plaid design mohair sweater knit, with sleeves and a collar panel in faux fur. The ribbed knit cuffs keep the wind out.



Relaxed elegance is a great way to describe this hip length jacket sewn with a stretch wool and a quilted lining fabric. The pocket flaps are secured into the front panel seam and the elbows are decorated with oval patches.



A traditional Harris Tweed with a cool twist. This style is cut like a denim jacket – including pockets, tabs and a button placket. It gets a warm and cozy faux fur at the folded collar.



One for the boys to get a lot of mileage! Wear this two-color shirt with the ribbed cuffs dressed up with a proper collar shirt and bow tie or on its own with jeans. This style also works to add an iron-on transfers.



Wool fabric, plush fabric and a quilted lining…this double breasted jacket is finished with tabs at the sleeve hems to keep kids warm all winter long. Cold hands can tuck into the welt pockets.



This short plaid dress with the detachable collar and seam pockets is preppy, though relaxed enough to wear for school and more. The A-line shape makes it comfortable, too.



Holiday time is perfect for lots of chic fashion options – like this girls' dream dress sewn in a white lace with a front placket and a sweet, detachable button peter pan collar complete with a bow.



Admittedly, this trench coat includes all the extras – storm flaps, pockets with flaps, tabs, a self-belt and deep pleats in back – so it is truly a challenging masterpiece project. The smile on the face of our little ones as they put it on is certainly worth all the work!



Even the dogs are looking to cover-up in this weather. This coat is sewn with a gabardine that is not only warm, it is also quite charming.



This bow-tie is made with a plaid fabric and denim to add a special touch for the festivities. It sews together quickly and is a fun holiday look for all the guys in the family.


Download this ENTIRE collection here (at a discount) to get ready for the holidays