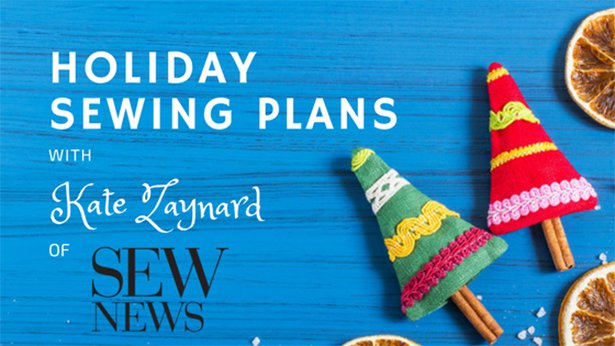 ShareThis
We sat down with our friend Kate Zaynard this week to talk about her plans for sewing during the holiday season. Kate is the creative director for Sew News and Creative Machine Embroidery Magazine and I also had the pleasure of travelling to the Original Sewing and Quilt Expo earlier this year where we worked on the BurdaStyle live fashion show and in booth sewing relay!
Q: Will you be traveling over the holidays or staying home?
A: I'm going on a Caribbean Cruise the week before Christmas. I'll be traveling with my husband, parents, sister, brother-in-law and 14-year-old niece. It should be a lot of fun! We're getting back two days before Christmas, and the day itself I'll be spending with my husband's family about an hour's drive from my house.
Q: How soon do you start sewing for the holidays?
A: Not as soon as I should! I make soap to give to friends and family; it requires a six-week cure time, so I have to be done in early- to mid- November. Only then do I have free time to start sewing for the holidays.
Q:What parties or special events will you attend this season? Is there anything special you plan to make to wear?
A: I'm missing a lot of local stuff because of the cruise, but of course I'll have parties, shows and special events on board. I made my little black dress for the Dec/Jan issue of Sew News with this trip in mind — I used the Josie Sundress pattern to make sure it was climate appropriate. I'm also planning on making a basic tank pattern, like the Sadie out of some cranberry-colored stretch velvet I picked up last year and embroidering something Christmassy (but not TOO Christmassy) on it. There's a great article on embroidering on velvet in the Nov/Dec issue of Creative Machine Embroidery which is going to get me through the process.
Q: Is there a go-to gift you like to make each year for friends?
A: Soap! Which probably doesn't help sewists come up with ideas, unfortunately. I do think pincushions are great go-to gifts for sewing friends. My favorites (the ones I've made for myself and use regularly) are the one from the 4 Sewing Projects for the Sewing Room ebook and the one that is included with the Sewing Tool Tote from the Dec 2015/Jan 2016 issue of Sew News. Bonus tip: I like stuffing my pincushions in two layers. The top I stuff with thread ends I've saved over time or with wool roving. The bottom I fill with crushed walnut shells. I've found that this gives the pins a good soft surface to penetrate on top and the walnut shells help stabilize the cushion and keep the pins sharp.
Q: What's the most memorable thing you've made for past holidays?
A: I actually haven't done much sewing for holidays in the past! I think the most memorable thing I've made was a stocking I knitted for my niece when she was a baby to match the one my grandmother knitted for me when I was young. Stockings are a great holiday keepsake, but knitting them is a pretty serious time commitment. The stocking kits from Heidi Boyd are a lot faster but make just as great a keepsake (I like the reindeer best!).
Q: What do you recommend as a good gift for kids?
A: I admit I love the adorable mermaid and shark blanket bags that were so in last year. I secretly wish someone would make a mermaid one for me out of a pretty double-sided minky fabric.
Q: What do you recommend as a good gift for a man? Dad? Boyfriend? Etc?
A: That's a tough one! My go-to is a leather organizer or e-reader cover. They require some extra tools, but they're luxurious in an understated way that makes them really special.
Q: Are there any special dishes you're excited to eat for the holidays?
A: Well, my favorite restaurant in the world is on the cruise ship, so there are actually a lot of special dishes I'm looking forward to! And of course when I get back I'm hoping for some yummy pumpkin pie. I also make a leftover turkey pot pie that's pretty darn good if I do say so myself — we only have it twice a year, after Thanksgiving and Christmas, because it's about 50% butter!
Q: What activities are you most looking forward to this holiday season?
A: This may come as a surprise, but the cruise is topping my list…(haha).
Q: Are there any new fashion or décor trends you're planning to incorporate into your holiday sewing this year?
A: : I don't think there's anything new! I'm just starting to dabble in piecing, so that's showing up in my sewing. I really do love machine embroidery, and there are so many great holiday designs, so that's making an appearance, too.
Q: What do you hope to receive this holiday from family and friends?
A: I always hope for some pins with fun, unique heads. I'd love a buttonhole cutter, but I forgot to put it on my list so I'll have to drop the hint really hard to have any hope of getting one. And I can't pretend I wouldn't love to find the Sew a Little, Sip a Little wine glass under the tree this year!
Thanks Kate!