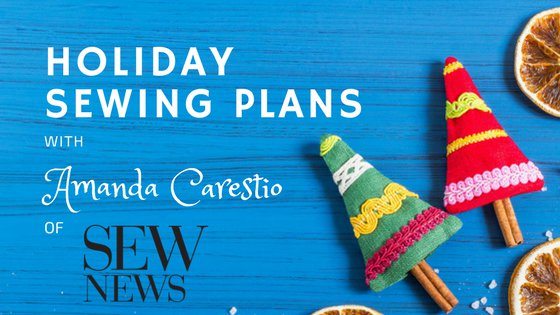 ShareThis
Last week Ellen March from Sew News interviewed me on what I'm making for the holidays, and it was a great motivator to get me actually sewing all my holiday gear and gifts! You can see the interview here, and this week I'm excited to have our friend Amanda Carestio, Senior Editor of Sew News and Creative Machine Embroidery talk to us about her holiday sewing traditions…
Q: Will you be traveling over the holidays or staying home?
A: Staying put! And kind of glad for it! I have three small kiddos, and I love that we get to invent our own Christmas traditions together (which always includes Chinese food on Christmas Eve).
Q: How soon do you start sewing for the holidays?
A: Right about now! I always decide ahead of time that I'm not sewing any gifts…and then change my mind at the last minute! I've got two easy projects in mind and flexible relatives who don't mind receiving items late, especially if they're handmade.
Q: What parties or special events will you attend this season? Is there anything special you plan to make to wear?
A: No parties planned but I did get a chance to wear my LBD from the latest issue of Sew News to a recent birthday dinner!
Q: Is there a go-to gift you like to make each year for friends?
A: I'm a big fan of bags for gifts, especially since you don't have to worry about fitting. I love the Stow & Go Tote from the new issue of Sew It All magazine. You can read more about the project here. It's the perfect beyond-basic tote and sews up in just a few hours.
Q: What do you recommend as a good gift for kids?
I like making easy pajamas for kids. It's practical but cozy! I made a rocket-themed set for the latest issue of Creative Machine Embroidery and paired the pj pants with a readymade top and themed embroidery. The pattern is a freebie through the end of December – grab it here!
Q: What do you recommend as a good gift for a man? Dad? Boyfriend? Etc?
A: I've been loving the high-end backpack trend, and I recently made my husband the Desmond Roll Top Backpack for his birthday.
…I also like cardigans. It's a nice alternative to the standard sweatshirt, perfect for layering and you don't have to worry a whole lot about sizing. Bonus points: they look a lot more complicated to sew than they actually are. I have a pattern similar to the BurdaStyle Andrew Cardigan and need to grab fabric (asap!).
Q: Are there any special dishes you're excited to eat for the holidays?
A: My husband is an amazing cook, so all of them! I was a vegetarian for many years, and though I eat some meat now, I'm still all about the sides. And I'm with Meg #teameggnog!
Q: What activities are you most looking forward to this holiday season?
A: With young kids, the holidays are a magical time. I like to take it slow, drink a lot of tea, and just watch them soak in the magic. We might also try ice skating over the break!
Q: Are there any new fashion or décor trends you're planning to incorporate into your holiday sewing this year?
A: Not necessarily holiday related, but my new years resolution is to sew jeans (finally!). I have my pattern and denim….but I may have to invest some time over the break taking Meg's Jeans Demystified course!
Q: What do you hope to receive this holiday from family and friends?
A: Fabric! Or gift cards for fabric! I have lots of sewing planned for 2018!