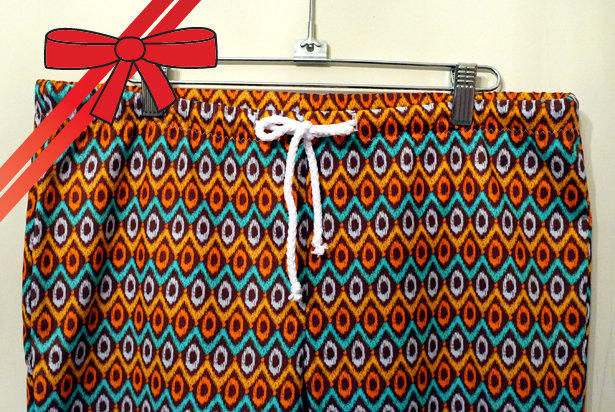 ShareThis
What better opportunity to utilize your sewing skill then to make your holiday gifts! I love both giving and receiving handmade gifts, I think it is a little more meaningful and personal and not to mention less expensive! Through out the next two weeks I will be be posting some great sewing gifts that you can make for friends and family. This year I decided to make everyone pajama pants for holiday presents and match the fabric I use to their personality. Check out my DIY below and how I turned our Satin Trousers into a cute pair of cotton pajamas!
I used this pattern for the base of my pajamas. It is not a 'pajama' pattern, but works just as nice because it has a relaxed fit, no closure and drawstring.
You can make your pajamas with pocket, but I choose not too (who need stuff in their pockets while they sleep?). If you want to sew the pockets in, refer to the pattern page's sewing instructions.
I printed, assembled, and added seam allowance to all my pattern pieces and then I aligned the pocket piece with the front pants along the placement line. I taped my pocket piece to the side of my pattern so I can cut out the front pant piece as one.
Here are the materials I used. I needed about 2m of fabric, 1.5m drawstring, and .5m 1" wide elastic.
On the top of my front pant pattern I aligned my elastic with the fold line and marked the width of my elastic along my pattern. Then I placed my drawstring at the pattern's buttonhole placement marking. I marked another line about 1/4" wider than the width of my drawstring, this will be the new buttonhole marking. On my back pant pattern piece I marked the same measurement (elastic width) above the fold line, and trimmed the excess paper.
I transferred my buttonhole markings and fused a little square piece of interfacing to stabilize it. Before assembling my pants, I sewed the buttonholes in the front pieces of my pants using an automatic buttonholer on my machine. Next I sewed my front and back crotch seams from waist to crotch point. Then I opened both my front and back pieces and matched their crotch points together, and sewed the inseams as a continuos seam from right leg hem to left leg hem.
Now it was time to sew my side seams (almost done!). Then I cut the length of my elastic. I measured the waist line top edge of my pants and cut my elastic two third of this measurement plus 1" for the over lap. I overlapped my elastic edges 1" and stitch a little box to secure it. I folded my elastic circle in half and found my centerback and centerfront points. I pinned the elastic into my pants matching those pin marks at the centerfront and back of my pants, this assures an even 'gather' of the elastic along the top edge. Then I used my serger to sew the elastic in, but you can easily use your single needle machine as well.
Once my elastic was serged into my waist line, I folded it once into my pants and topstitched it down with a zip zag stitch. You'll want to use a stretchy stitch, such as a zig zag or the stretch stitch setting. Now is the time I cut open my buttonhole and threaded my drawstring though the self made casing. I cut and knotted each end of my drawstring so it didn't fray. Then I simply serged the bottom hem of my pants and pressed up about 1 1/4" and stitch in place.
There you go! These pants took me all of an hour to complete. If you want to make these as gifts I suggest cutting them all out at once and sewing each step of each pajama at once, then in about 3 or so hours you'll have 4 adorable pajamas to give as gifts.
Happy sewing and gift making!
Meg