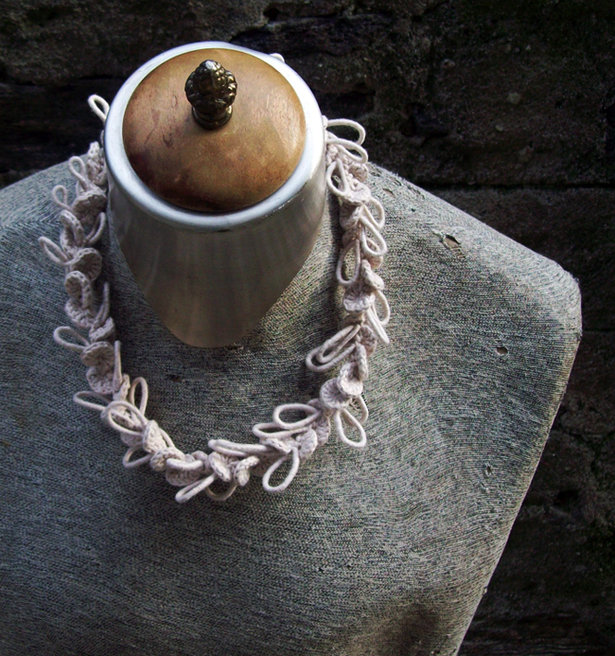 ShareThis
It's time for our second annual Holiday Giveaway Calendar! Everyday in the month of December we are giving away an amazing prize! It's super easy to enter, just leave your comment answering the bolded questions below by noon EST 12/6 and one lucky winner will be chosen at random from all eligible entries!
Today's Giveaway is the Antoinette Necklace from New York-based design company Chauncey P. Graham. The Antoinette Necklace is a beautiful mixture of crochet and macrame work, handmade with %100 organic cotton yarn. Its muted color yet bold design pattern gives it versatility for both day and evening.
Chauncey P. Graham features warm and subtle accessories, paper goods and craft supplies with an emphasis on environmental sustainability, reuse and simplicity. Their designs are meant to compliment your everyday life, and are hand-crafted with patience and the highest regard for quality. Discover more at ChaunceyPGraham.etsy.com.
Along with the Antoinette Necklace, the winner will also receive a pair of small, recycled notebooks!
To enter just leave your comment answering this questions by noon EST 12/6:
Chauncey P. Graham is a name culled from the imagination of the line's founder and designer, David Morgan.
If you could have another name besides your own, what would it be and why?
We want to congratulate christinasbookshelf on winning yesterday's Ich Liebe BurdaStyle T shirt! Her comment was chosen at random from all eligible entries. Thanks to everyone who entered and good luck in today's giveaway!