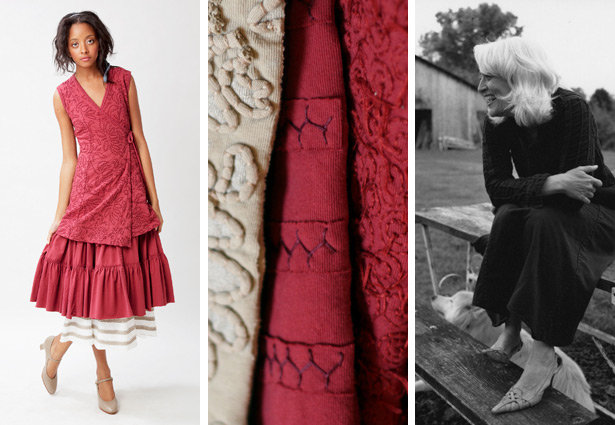 ShareThis
It's time for our second annual Holiday Giveaway Calendar! Everyday in the month of December we are giving away an amazing prize! It's super easy to enter, just leave your comment answering the bolded questions below by noon EST 12/19 and a lucky winner will be chosen at random from all eligible entries!
Today, enter to win Natalie Chanin's Alabama Stitch Book plus a Bandanna Kit!
Natalie "Alabama" Chanin is best known as the founder of the American couture line Alabama Chanin. Her designs for hand-sewn garments constructed using quilting and stitching techniques from the depression-era south have been lauded for both their beauty and sustainability. Made from organic and recycled materials by artisans located near Natalie's home in Florence, Alabama, the designs have been lauded by
Alabama Chanin creates limited-edition, rendered-by-hand, jewelry, clothing, home furnishing and textiles using a mixture of recycled and organic materials with local talent. Based on the thought that good design should be a part of everyday living, Alabama Chanin gives modern context to techniques that have been passed down through generations of women and men.
Natalie's Alabama Stitch Book is now available in stores and she is anticipating the release of her next book in March 2010: Alabama Studio Style.
To enter, just leave your comment answering this questions by noon EST 12/19:
What is the one sewing notion you can't sew without and can never seem to resist buying?
We want to congratulate Liola on winning yesterday's Oliso Frisper Freshkeeper! Her comment was chosen at random from all eligible entries. Thanks to everyone who entered and good luck in today's giveaway!