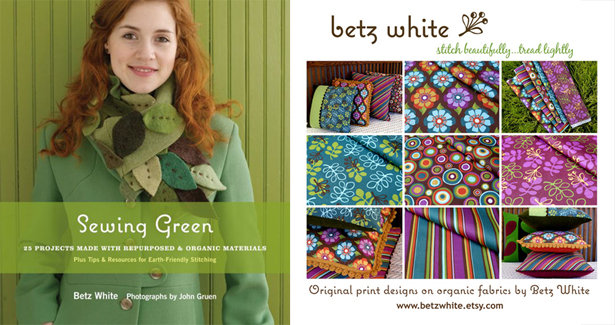 ShareThis
It's time for our second annual Holiday Giveaway Calendar! Everyday in the month of December we are giving away an amazing prize! It's super easy to enter, just leave your comment answering the bolded questions below by noon EST 12/8 and one lucky winner will be chosen at random from all eligible entries!
Today's we are giving away two great prizes from Betz White, her book, Sewing Green and a 5 piece sample set of her amazing organic fabric.
By its nature, sewing is environmentally friendly. In Sewing Green, Betz White takes stitching to an even higher level of sustainability, presenting 25 projects made from "repurposed" thrift-store finds and organic fabrics.
White's whimsical yet practical designs include an apron constructed from men's dress shirts (and a wallet from the shirts' cuffs!), a soft blanket pieced from secondhand cashmere sweaters, and even a tote bag refashioned from used Tyvek envelopes. Along the way, White dispenses tips on everything from how to deconstruct old garments for reuse in new creations to how to wrap gifts with resusable fabric scraps instead of paper. Inspiring profiles about well-known leaders in the eco-stitching movement are sprinkled throughout, and a complete resources section helps crafters make eco-smart choices. With Sewing Green, today's sewers will be fashioning handmade heirlooms and sustaining traditions for generations to come. Find out more, check out her blog
Inspired by the season, the latest Betz White organic print collection is cast in a rich palette of Indian Summer. Brilliant Goldenrod, Bittersweet, Orchid and Moss are grounded by Sweet Mulberry, Peacock, and Chocolate Brown. Digitally printed on demand, the 100% Organic Cotton 4.5 oz sateen drapes beautifully, has a lustrous sheen and is ideal for apparel, home décor, craft projects and personal accessories. Original design by Betz White professionally printed in the USA. The 5 piece sample set consists of the following prints: Indian Summer Floral, Deep Bright Stripe, Wood Pile, Peacock Sprig and Mulberry Sprig. Each cut measures 9"h x 13"w (approx. 23 cm x 33 cm) To see the full line of Betz White organic fabrics, check out betzwhite.etsy.com.
To enter, just leave your comment answering this questions by noon EST 12/8:
What's your favorite tip for sewing 'green'?
We want to congratulate mama3davis on winning yesterday's two books from Nicole Smith: Fashion DIY: and DORM DÉCOR! Her comment was chosen at random from all eligible entries. Thanks to everyone who entered and good luck in today's giveaway!