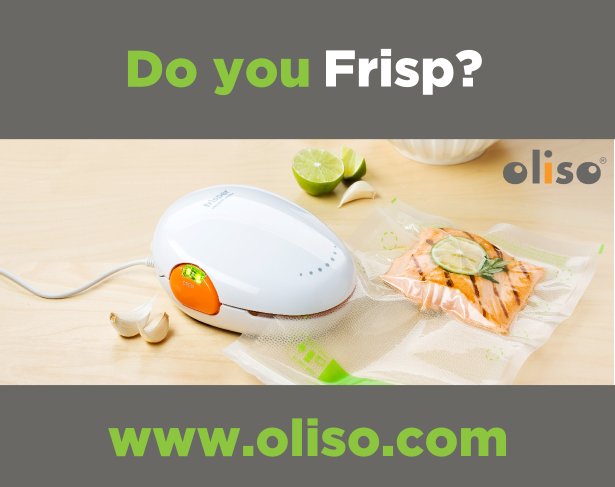 ShareThis
It's time for our second annual Holiday Giveaway Calendar! Everyday in the month of December we are giving away an amazing prize! It's super easy to enter, just leave your comment answering the bolded questions below by noon EST 12/18 and a lucky winner will be chosen at random from all eligible entries!
Today, enter to win the Oliso Frisper Freshkeeper!
Oliso is the home of the smart steam iron and the small but powerful food vacuum sealer, the Frisper. Oliso brings magic to household products with patented itouch technology. Looking for a steam iron that doubles as a dry iron? Take a look at the Oliso Smart Iron, it levitates so your clothes never burn and your wrist never strains. Searching for a food vacuum sealer that doesn't take up the whole kitchen counter? Check out the Frisper; our compact food sealer. Just click here and watch the magic begin.
Frisper is the only vacuum seal system to offer the professional power of large vacuum sealers in a palm-size device. The Frisper vacuum sealer combines professional-grade recloseable and reusable zipper-top bags that offer the everyday convenience of zipper-top bags. The Frisper makes vacuum sealing easy and convenient with its two storage containers; the vac snaps and the pantry bags. The pantry bags are great air tight food storage containers for dry goods like nuts, granola, coffee, cereal or spices. The Pantry Bag lives up to its name by standing upright in your pantry like any other food storage container. The vac snap bags are designed for freezing and refrigerating food. The frisper keeps food up to five times fresher than standard food storage. Both the vac snap and the pantry bags are reusable bags that zip lock with a handy zip disc.
The FF600 is a small yet powerful vacuum sealer with multiple uses, and it won't take up your whole kitchen counter. Vacuum seal food with the Frisper FF600 and keep the freshness up to five times longer. In addition the FF600 comes with a universal accessories attachment that allows the Frisper to vacuum seal mason jars and wine bottles. The handy pantry bags have a built in sealing valve and come in two sizes; medium/6 cups or large/12 cups. are great for dry food storage like nuts, cereal, coffee and pretzels.they will stand upright on your pantry shelf. The vac snap bags are tough durable bags built for freezer food storage.
To enter, just leave your comment answering this questions by noon EST 12/18:
What will you use your Frisper vacuum sealer for if you win?
We want to congratulate Mirela on winning yesterday's premier issue of Sew It All and a one year subscription to Sew News magazine! Her comment was chosen at random from all eligible entries. Thanks to everyone who entered and good luck in today's giveaway!