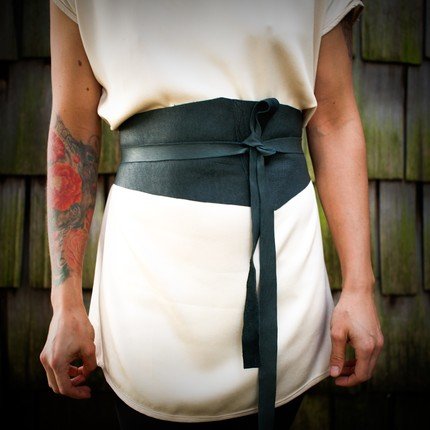 ShareThis
It's time for our second annual Holiday Giveaway Calendar! Everyday in the month of December we are giving away an amazing prize! It's super easy to enter, just leave your comment answering the bolded questions below by noon EST 12/27 and a lucky winner will be chosen at random from all eligible entries!
Today, enter to win an Obi Belt from Ledthread!
Ledthread is made by our wonderful friend and designer, Layla in lovely Red Hook, Brooklyn. Inspired by peasant costume across the globe, particularly desert peoples and the Japanese, she uses fine fabrics and skins, all of which are designer surplus, end-of-runs, or upcycled to create her designs. Her construction methods are her signature, flaunted only in the details (threadthreadthread). Ledthreads are meant to breathe and change as you wear them—clothing and decorating our bodies is a living (and by living, dying) process, and she want to wear that feeling of beautiful inevitable essential decay.
these belts are made of sturdy but friendly leather: perfect for trimming your tummy, updating your closet, and warming the winter. one side is leather, the other suede; the leather side is an ashy matte black, perhaps you may call it gray. also available in other leathers —> shiny chocolate, matte chocolate, blood burgundy & true black with a slight shine.
Check out her amazing store here
To enter, just leave your comment answering this questions by noon EST 12/27:
What was your favorite garment or accessory when you were little?
We want to congratulate dglosek on winning yesterday's $100 gift card to Mood Designer fabric! Her comment was chosen at random from all eligible entries. Thanks to everyone who entered and good luck in today's giveaway