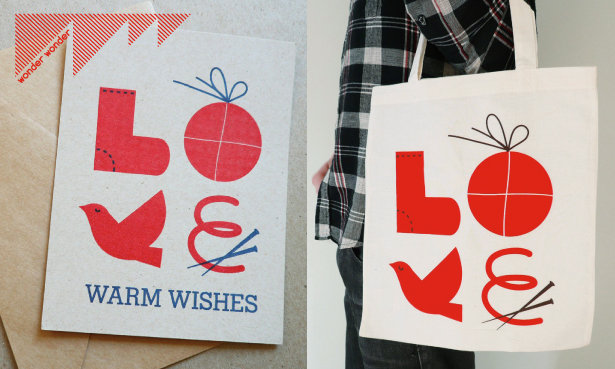 ShareThis
It's time for our second annual Holiday Giveaway Calendar! Everyday in the month of December we are giving away an amazing prize! It's super easy to enter, just leave your comment answering the bolded questions below by midnight EST and one lucky winner will be chosen at random from all eligible entries!
Today we are giving away an amazing gift set by our very own Wonder Wonder.
Wonder Wonder is a NYC based multi-disciplinary creative studio founded by Hikaru Furuhashi. The studio practices and exhibits works with the focus of graphic aesthetics, conceptual playfulness and the idea of designing by hand.
Sock, ornament, winter migration bird and knitting are lovely winter icons. What if they all form LOVE? This makes a fun and great gift for friends, family and kids to GIVE YOUR LOVE to. Tote Bag and Gift cards, silk screen printed in Brooklyn. Tote Size: 12.5″ × 13.5″
Check out her Etsy Store
To enter just leave your comment answering this questions by midnight EST:
What's your favorite Wonder Wonder item?