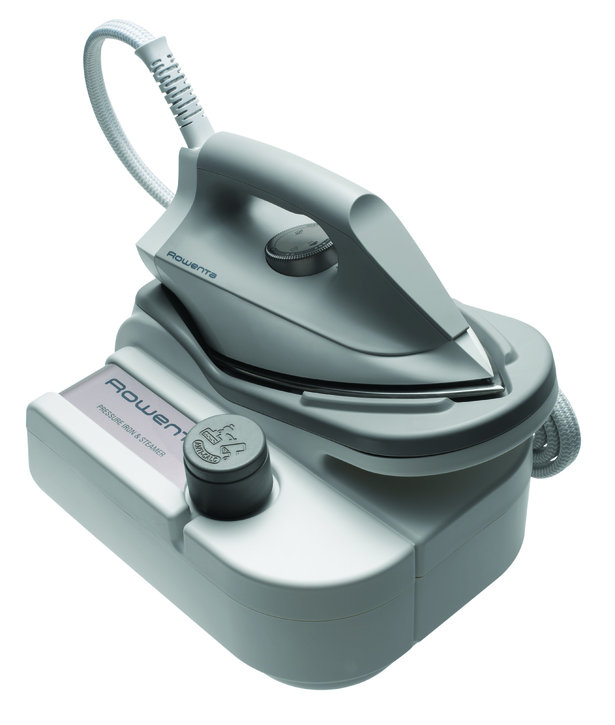 ShareThis
It's time for our second annual Holiday Giveaway Calendar! Everyday in the month of December we are giving away an amazing prize! It's super easy to enter, just leave your comment answering the bolded questions below by noon EST 12/30 and a lucky winner will be chosen at random from all eligible entries!
Today, enter to win a Rowenta® Pressure Iron & Steamer!
The Rowenta® Pressure Iron & Steamer introduces a new way to achieve professional, quality results at home quickly and conveniently. The harmonious design dramatically reduces your ironing time, and delivers dry cleaner freshness without dry cleaner costs.
By simply pressing the trigger on the iron, 1 1/2 hours of continuous high-powered steam penetrates quickly and deeply into fabric for wrinkle-free beauty and freshness in just seconds. Additionally, the highly polished soleplate effortlessly presses in crisp creases and pleats.
The compact base provides a convenient, ergonomic place to safely rest the iron when not in use. The extra-large water tank holds 33 ounces of regular tap water. The extra long power cord and the 6-foot steam hose enable use virtually anywhere in the home – drapes, curtains and more can easily be reached and steamed in addition to any ironing done at the board.
1750 watts of power provides the steam you need at for professional results.
The Rowenta® Pressure Iron & Steamer is available at major department stores and fine retailers.
Visit us at www.rowentausa.com
To enter, just leave your comment answering this questions by noon EST 12/30:
How often do you use your iron when working on your projects? What is the most important feature that you love or wish your iron had?
We want to congratulate wzrdreams on winning yesterday's Feature in Living Creatively Online Monthly Magazine! Her comment was chosen at random from all eligible entries. Thanks to everyone who entered and good luck in today's giveaway