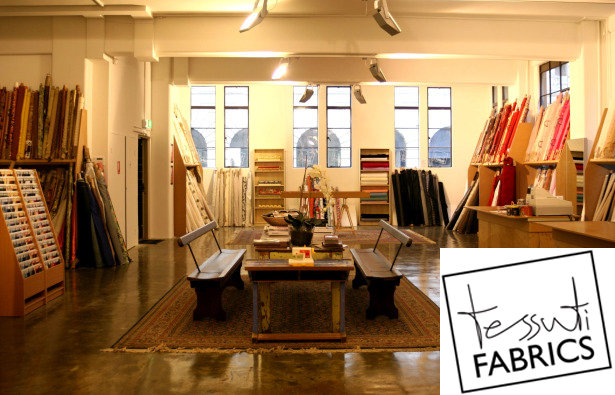 ShareThis
It's time for our second annual Holiday Giveaway Calendar! Everyday in the month of December we are giving away an amazing prize! It's super easy to enter, just leave your comment answering the bolded questions below by noon EST 12/12 and one lucky winner will be chosen at random from all eligible entries!
Today, enter to win a $100 voucher for Tessuti Fabrics' online store!
Tessuti Fabrics, located in Sydney and Melbourne (Australia), has been home to the world's most beautiful designer fabrics for over 17 years. We have Italian, French, German and Japanese fabrics including wools, silks, linen, viscose, cottons and laces are a speciality of Tessuti Fabrics. Tessuti Fabrics buys from over 30 leading European, Australian and New Zealand designers and manufacturers including Giorgio Armani, Chanel, Dolce & Gabbana, Etro, Max Mara, Moschino, Prada, Akira, Lisa Ho, Zimmermann, Simona, Wayne Cooper, Marnie Skillings, Nicola Waite, Josh Goot, Cue and many more.
Tessuti Fabrics also stocks an exquisite range of bridal fabrics from the most delicate French laces and beaded laces to a huge range of silks (silk satin, jersey, tulle, dupion, georgette, organza, faille and duchess and many more). Also new to Tessuti Fabrics is a wide selection of Japanese Pattern Books and Liberty Of London Tana Lawn prints.
To enter, just leave your comment answering this questions by noon EST 12/12:
Browse our online shop and select one fabric to use with a Burdastyle pattern of your choice. In 50 words or less, tell us why you've chosen both.
Winning entry will receive a $100 voucher to spend in our online store.
www.tessuti.com.au
www.tessuti-shop.com
tessuti.blogspot.com
We want to congratulate ELAINE on winning yesterday's nearly 40 sewing machine needles and one INSPIRA® Needle Guide! Her comment was chosen at random from all eligible entries. Thanks to everyone who entered and good luck in today's giveaway!