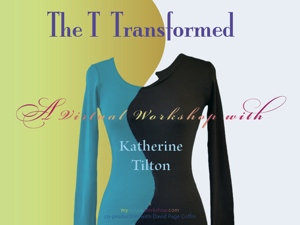 ShareThis
It's time for our second annual Holiday Giveaway Calendar! Everyday in the month of December we are giving away an amazing prize! It's super easy to enter, just leave your comment answering the bolded questions below by noon EST 1/1 and a lucky winner will be chosen at random from all eligible entries!
Today, enter to Win a $100 gift certificate for fabric atwww.marcytilton.com and a copy of Katherine Tilton's 'The T Transformed!
People are always asking me, "where did you get that fabric?" Marcy Tilton's fabric collection began when I started buying small amounts of fabric for my own stash to sell to students in classes. It has now grown to include things I find in my travels, from designer friends, and from trips my sister Katherine and I take specifically to purchase fabrics we think you will enjoy sewing with. I look for the kinds of fabric I seek for my own sewing and to use in the Vogue patterns I design. I look for fabric that I want to incorporate into my own wardrobe, and search out great basics for pants, jackets and t-shirts as well as interesting pieces to use for accents and trims.
Vogue Pattern designer Marcy Tilton's diverse and inspiring website features a carefully chosen selection of garment fabrics, silk screens, virtual workshop CDs and selected notions. At www.marcytilton.com you can sign up for her informative newsletter, view educational tutorials and a gallery of current projects. Also on Marcy's website you can get information and sign up for Design Outside the Lines sewing/creativity retreats and Marcy's InnerParis and San Francisco studio tours.
Win a copy of Katherine Tilton's 'The T Transformed', a virtual workshop CD with video clips, text and a gallery to inspire and instruct in re-making, re-using, and re-designing your wardrobe at: www.katherinetilton.com
In Katherine Tilton's southern Oregon ArtBarn studio she designs and produces series of limited production garments, including arty T-shirts, eclectic jackets and figure flattering pants. At www.katherinetilton.com you can view and purchase her textile work, read her poetry, zen her meditation prayer flags and watch snippets from her virtual workshop CD, 'The T Transformed'. Sign up for her newsletter or submit a burning question to be answered in the entertaining and informative Q & A column 'what would nandini do'. As an educator Katherine brings a working designer's expertise to problem solving and simplifying and streamlining your sewing projects. Watch for her new Vogue patterns, the first coming out in April 2010.
To enter, just leave your comment answering this questions by noon EST 1/1:
If you had a studio play date with the Tilton Design Studio, in real or virtual reality, what project would you most like to create and problem solve about?
We want to congratulate elainemay on winning yesterday's 9 SewStylish magazines, a year long subscription to Threads and Threads fitting DVD box set! Her comment was chosen at random from all eligible entries. Thanks to everyone who entered and good luck in today's giveaway