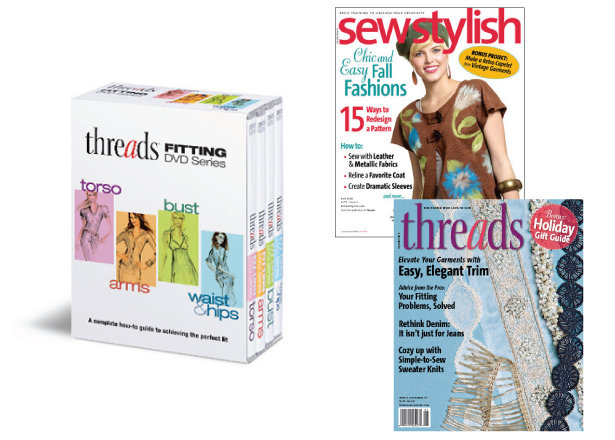 ShareThis
It's time for our second annual Holiday Giveaway Calendar! Everyday in the month of December we are giving away an amazing prize! It's super easy to enter, just leave your comment answering the bolded questions below by noon EST 12/31 and a lucky winner will be chosen at random from all eligible entries!
Today, enter to win a 9 SewStylish magazines, a year long subscription to Threads and Threads fitting DVD box set!
SewStylish prize pack:
Get every issue of SewStylish published to date for basic training to unleash your creativity. From the publishers of Threads, SewStylish is a biannual magazine that shows you how to get the looks of your favorite designers with easy-to-follow how-tos and advice from the pros.
Threads one-year subscription:
For people who love to sew, Threads is an invaluable resource delivered to their mailbox every other month. Throughout the year Threads provides its readers with detailed information on creating the details that matter, including techniques on fitting, couture methods, tailoring, and more. Each issue is filled with articles from industry insiders and professionals from the people who know them best.
Threads Fitting DVD:
This 4-part video series was created by the Threads magazine staff based on requests from readers who know the importance of fitting. This series shows, step-by-step, exactly how to achieve a fit that's just right from top to bottom. Produced by the editors of Threads magazine, this instructional series will serve as a trusted sewing resource with valuable information for all skill levels.
Threads editors walk you through the finer points of achieving a custom fit. Plus, you'll get expert advice from N.Y.C. fashion designer, couture sewer, and FIT instructor Kenneth D. King.
4 essential fitting topics including:
Torso — Discover the ins and outs of a great fit from neck to waist.
Arms — Learn the secrets of fitting a sleeve with ease.
Bust — Drape and shape for a fit that flatters every body type.
Waist & Hips — Custom-fit or alter pants and skirts like a pro.
You'll learn how to apply timeless techniques used by designers and professionals to solve fitting problems, make alterations for each body type, and achieve a flattering fit every time.
To enter, just leave your comment answering this questions by noon EST 12/31:
What is your favorite sewing technique
We want to congratulate tario on winning yesterday's Rowenta® Pressure Iron & Steamer! Her comment was chosen at random from all eligible entries. Thanks to everyone who entered and good luck in today's giveaway