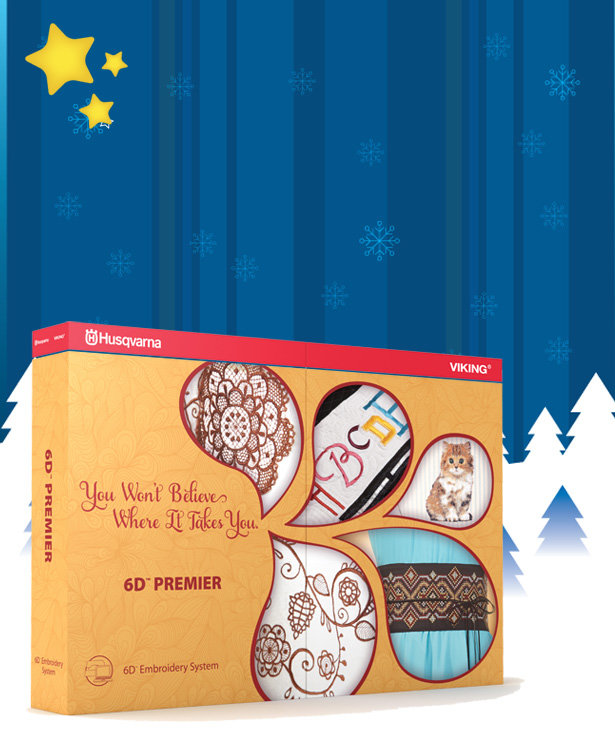 ShareThis
Comment to win the the first of this month's giveaways! Update: Congratulations to our lucky winner, Janell5!
We're kicking off this celebratory month with a software giveaway from HUSQVARNA VIKING®. The latest 6D™ Embroidery Software will fuel your creativity. You won't believe where it takes you! 6D™ is compatible with Windows® 8 touch-screen technology, so you can pinch, zoom, auto-scroll, select and move right on your touch-screen! The Windows® Explorer Plug-In makes it easier to manage your designs. You'll be able to view thumbnails, open designs, and more. Use this software to embellish clothes for little ones, personalize sports bags and outerwear or monogram everything from tote bags to oxford shirts. The software is compatible with all major machine brands. Retail value: $2299.
Sash and curtains made using 6D™ Embroidery Software
Some of the top features include:



Life View will allow you to view your projects with real world perspective. Move and vary the angle of the embroidery in a three dimensional view
QuiltBlock Wizard will guide you through every choice for filling and outlining a quilt block. There are a large variety of quilting fills available. Choose from nine different quilt block shapes.
Multi-Part Design Saving – design parts stay separate when you save, open and copy. This feature allows individual parts of a design to be modified after saving.
Create your own designs with Design Creator with features including appliqué and cutwork and an easier process for tie offs and jump stitches.
Over 145 fonts including fonts designed specifically for Puffy Foam

We'd test drive our new 6D™ Embroidery Software with some classic monogramming. Preppy staples like the Pocket Shirt or men's Stinchcomb Jacket pair perfectly with custom initials and a pair of loafers.

For your chance to win this software, simply comment below with one item on your holiday shopping wishlist! A winner will be randomly selected Friday, December 6.