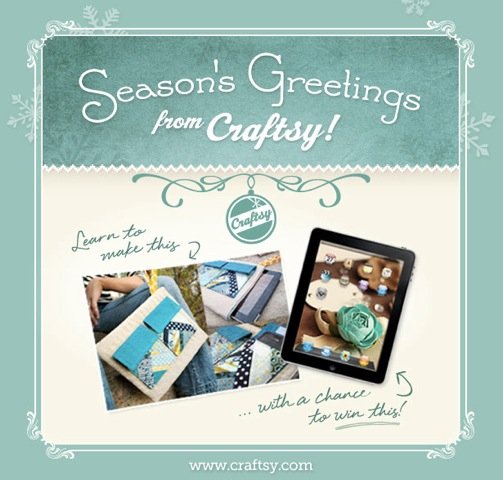 ShareThis
Our amazing friends at Craftsy are giving you the opportunity to win unlimited access to classes, plus a chance to win an iPad! Answer their question below by Sunday December 4th, at 10:00am EST to win!
From Craftsy:
We're about to start shooting a brand new couture dressmaking class at Craftsy (taught by expert dressmaker, Susan Khalje), and we'd love to know what you think makes a perfect dress.
Tell us all about it in the comments section. We'll make it worth your while: Post a comment and you'll have a chance to win one of the five Craftsy "hall-passes" we're giving away. The hall-pass gives you unlimited access to any class you want in our entire catalog—- watch whenever you want and however many times you want. Choose the class from any of our many categories, including sewing, quilting, knitting, crocheting, gardening, and more.
After you tell us about your perfect dress, click this magic link to sign up at Craftsy, and as a thank you from us, you'll automatically get the awesome iTote workshop for free. PLUS, you'll be entered for a chance to win an iPad. See? We told you it was a magic link.
This giveaway is sponsored by Craftsy
*Please note: If selected as a winner, any personal information you provide to receive your prize in this giveaway is subject to the sponsor's privacy rules. These may differ from BurdaStyle's rules, so please review the rules before entering your information. BurdaStyle is not responsible for the handling of your data in connection with this giveaway.
---
[Update 12/6/11] – Congratulations to member Dibii for winning the Holiday Giveaway Day 3!