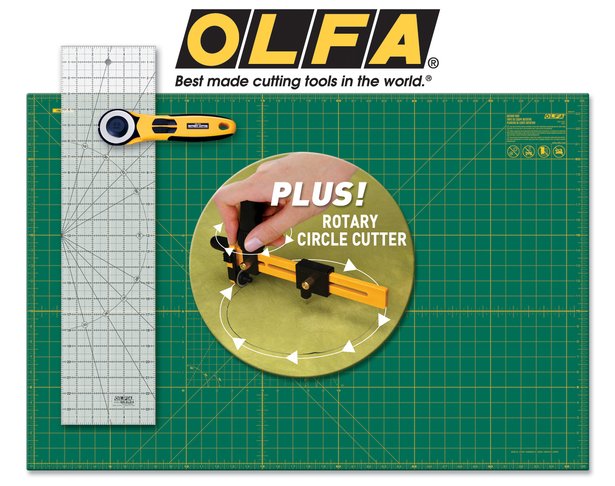 ShareThis
Due to special regulations, we have been informed that today's giveaway is only for U.S. members. We sincerely apologize for the inconvenience to all of our international members, and hope that you will participate in the majority of this month's giveaways that are available to everyone.
---
Welcome to Day 20 of our Holiday Giveaway! Win an "OLFA Essentials PLUS" Gift Pack from OLFA! Comment on this blog article by 10AM (EST) Wednesday, December 21st to be entered to win!
This gift pack will include: OLFA 45mm Quick Change Rotary Cutter, OLFA 6" x 24" Non-Slip Frosted Advantage™ Acrylic Ruler, OLFA 24" x 36" Self-Healing Rotary Mat, and PLUS – OLFA Rotary Circle Cutter

Comment to Win: How often do you cut using a rotary cutter in a given week?
0 times – I do not own a rotary cutter
1-3 times
4-6 times
7-9 times
10+

This giveaway is sponsored by OLFA

Please note: If selected as a winner, any personal information you provide to receive your prize in this giveaway is subject to the sponsor's privacy rules. These may differ from BurdaStyle's rules, so please review the rules before entering your information. BurdaStyle is not responsible for the handling of your data in connection with this giveaway.
---
[Update 12/21/11] – Congratulations to member saxysarah for winning the Holiday Giveaway Day 20!