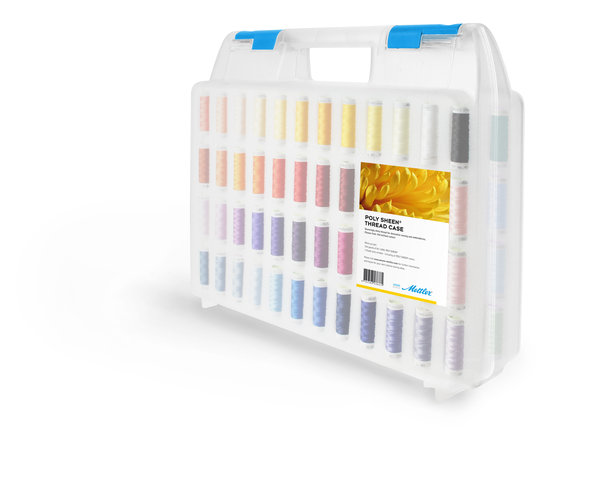 ShareThis
Welcome to Day 16 of our Holiday Giveaway! Here is your chance to win a Poly Sheen Thread Case from Amann Group Mettler! Comment on this blog article by 10AM (EST) Saturday, December 17th to be entered to win!
You will never lose thread with the Amann Group Mettler Thread Case.
– Minimal space requirement – great capacity. Up to 96 Amann Group Mettler thread spools may be stored and are clearly visible in the 39 × 35 × 9 cm small plastic box. And they are protected from dirt, dust and humidity.
– Ready to hand in seconds. Thanks to the optimal safekeeping system – each spool has his own place into the box – you get a good overview on the desired thread in no time. The remaining colors are guaranteed to stay on the spot.
– Handy to use. The Amann Group Mettler thread case finds its place anywhere, whether it is free standing or partially opened on the table.
– Use it at home or on the road. With the Amann Group Mettler thread case your thread spools are always secure and under control.
1x thread case offering space for 96 spools of Amann Group Mettler Poly Sheen (Art. 3406)

Comment to Win: Where did you learn to sew?

This giveaway is sponsored by Mettler

*Please note: If selected as a winner, any personal information you provide to receive your prize in this giveaway is subject to the sponsor's privacy rules. These may differ from BurdaStyle's rules, so please review the rules before entering your information. BurdaStyle is not responsible for the handling of your data in connection with this giveaway.
---
[Update 12/19/11] – Congratulations to member madrid64 for winning the Holiday Giveaway Day 16!