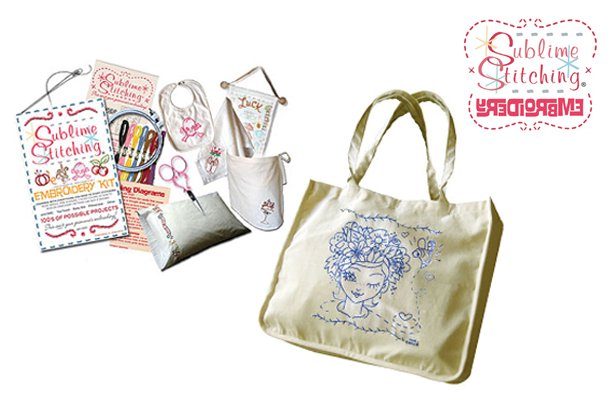 ShareThis
Welcome to day 12 of our Holiday Giveaway! Win the Ultimate Embroidery Kit from Sublime Stitching! Comment on this blog article by 9AM (EST) Monday, December 13th to be entered to win!
The Original Embroidery Kit! Everything you need to learn how to embroider (and keep embroidering) with high-quality supplies all brought together for you in one kit. Hundreds of possible projects, endless possibilities. Become an embroiderer like magic!
Comes Crammed With:
- 5" Plastic Embroidery Hoop
- 4 Embroidery Needles w/ Magnet
- PINK all-metal embroidery scissors
- Complete Embroidery How-To and Stitch Diagrams by Jenny Hart
Kit is packaged in super cute Floral Fantasy Tote!
Sublime Stitching was founded independently in Austin, Texas in 2001 by Jenny Hart, due to an overabundance of bunny-n-duckie patterns and outdated, overly-difficult instructions for embroidery. After first trying embroidery in the summer of 2000, Hart was unable to find any alternative patterns for stitching ("alternative" meaning: anything other than cutesy teddy bears, duckies, bunnies and scarecrows). Instead of waiting for the craft industry to do something new, she did it herself. Jenny decided to create the company she wished existed: introducing her own designs in non-traditional themes, with new education and new anything for embroidery.
Hart's vision for updated embroidery has grown from her first line of four design sheets to over fifty themes, including the collaborative Artist Series, and a complete product line that includes quality tools and textiles for embroidery.
Sublime Stitching endeavors to maintain fair-trade relationships both locally and internationally and to collaborate with communities of other independent crafters, artists and locally-owned businesses whenever possible. All for embroidery and embroidery for all!
Comment to Win: What level sewer would you consider yourself?
Congratulations to corvus who won a DVD package from Threads!
This giveaway is sponsored by Sublime Stitching