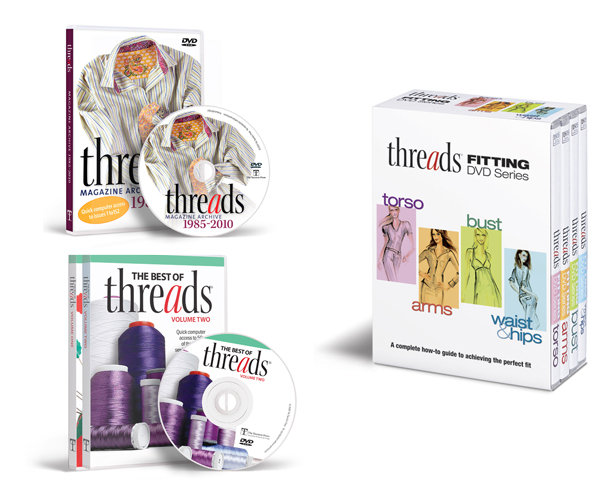 ShareThis
Welcome to day 11 of our Holiday Giveaway! Enter to win 3 amazing DVD sets from Threads Magazine! Comment on this blog article by 9AM (EST) Sunday, December 12th to be entered to win!
2010 Threads Archive DVD Rom – Value $149.95
Less looking — more sewing! Now, instead of thumbing through your stack of Threads magazines, you can quickly find that fabulous article on creating your own laser-cut designs. Or easily compare dozens of designer secrets for tailoring a jacket for a perfect fit.
Enjoy on-demand access to all 152 issues of Threads. The Threads Archive DVD-ROM gives you easy access to our 152 issues, including any out-of-print issues and all those published in 2010. Now, 25 years' of expert advice on one easy-to-search disc.
Threads Fitting DVD series – Value $99.95
This 4-part video series was created by our Threads magazine staff based on requests from readers who know the importance of fitting. This series shows, step-by-step, exactly how to achieve a fit that's just right from top to bottom and it includes:
· step-by-step instruction
· all-new content
· timeless techniques
· 4 essential fitting topics
Amber Eden, Editor in Chief and Judith Neukam, Senior Technical Editor, walk you through the finer points of achieving a custom fit. Plus, you'll get expert advice from N.Y.C. fashion designer Kenneth D. King.
Best of Threads DVD-ROMs – Value $74.93
The editors of Threads bring you this 2-part DVD-ROM set totaling 100 of our best sewing technique articles – many of them currently out of print. The DVD-ROMS also include videos and answers to our most frequently asked questions. Plus, the DVD-ROMS are fully searchable so in a matter of seconds, you can find the information you need.
Comment to Win: How many projects do finish in a year?
Congratulations to hovis1971, who won a goodie bag from Blumenthal Lansing!
This giveaway is sponsored by Threads Magazine