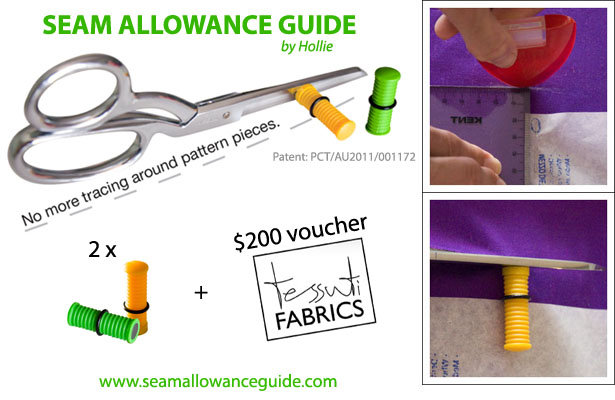 ShareThis
Welcome to Day 11 of our Holiday Giveaway! Win 2 Seam Allowance Guides, one for you and a friend, and a $200 Tessuti Fabric Voucher from seamallowanceguide.com! Comment on this blog article by 10AM (EST) Monday, December 12th to be entered to win!
The most time consuming and annoying part of sewing is adding a seam allowance to all your pattern pieces. No longer do you have to measure and trace around each individual piece, the Seam Allowance Guide will do that for you while you cut out your fabric. Now you can spend more time on the fun stuff.
Perfect for:
Burda Style Magazine Patterns
Japanese Pattern books
Marfy Patterns
Copying your own clothes
Designers creating patterns from scratch
Altering patterns
Left or right handed scissors
Picking up pins!
Comment to Win: What annoying sewing problem do you wish there was a solution for?
This giveaway is sponsored by seamallowanceguide.com
*Please note: If selected as a winner, any personal information you provide to receive your prize in this giveaway is subject to the sponsor's privacy rules. These may differ from BurdaStyle's rules, so please review the rules before entering your information. BurdaStyle is not responsible for the handling of your data in connection with this giveaway.
---
[Update 12/21/11] – Congratulations to member Podbod18 for winning the Holiday Giveaway Day 11!