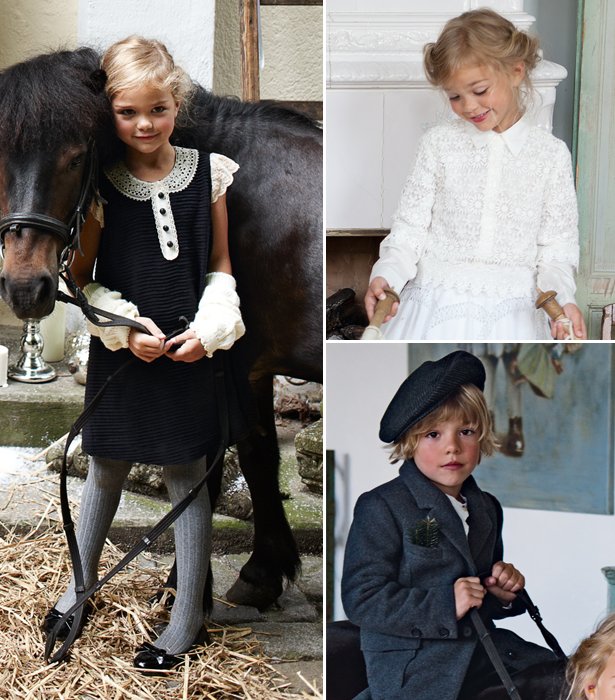 ShareThis
The snow is falling, and we are all getting in the spirit of the holidays. We bring you this new children's pattern collection from burda style magazine's December 2012 issue. The styles are grown-up but still have some fun details that children will love. This collection includes designs for little boys and girls to enjoy.
These Pleated Trousers are not only popular with the parents – because they look as dressy as men's trousers and also a hit with the boys. The stretch fabric allows ease for movement and make these trousers extra comfortable. They look good turned up too, for a more casual look.
This sweet little Jacket has a belt made of fabric remnants and lace, plus a peplum at the back that curves beautifully into the front edge.
This Lace Top is pure joy, not only because it is so beautiful and festive. The top is made simply from scalloped lace trim that is so elegant for your little girl. We love it worn with this adorable draft-yourself Lace Skirt. It is perfect for this time if the year and it has a lovely flare and is made from a lace tablecloth!
This little Frock Coat is perfect for this time of the year. It is classic and has patch pockets for those mittens so they don't get lost.
This little girl's Dress is stunning and easy to make! It is a simple shift dress that is topped off with a Peter Pan collar form the flea market and a band made from lace remnants.
Just as fashionable as mom's coat! This is an adorable, figure-hugging, lined, Dress Coat with waist seam, inseam pockets with flaps, and velvet collar.
This Lace Dress with both stitched-on and inset lace adornment is so charming. And at the same time it is relatively straight forward. It has a straight-cut bodice with a full bell skirt attached. An elastic waist band gives it its shape.
During this time of year, Teddy Bears are a must! These two mates may be somewhat challenging to make, buy they're so lovable and cuddly.
Happy Sewing!