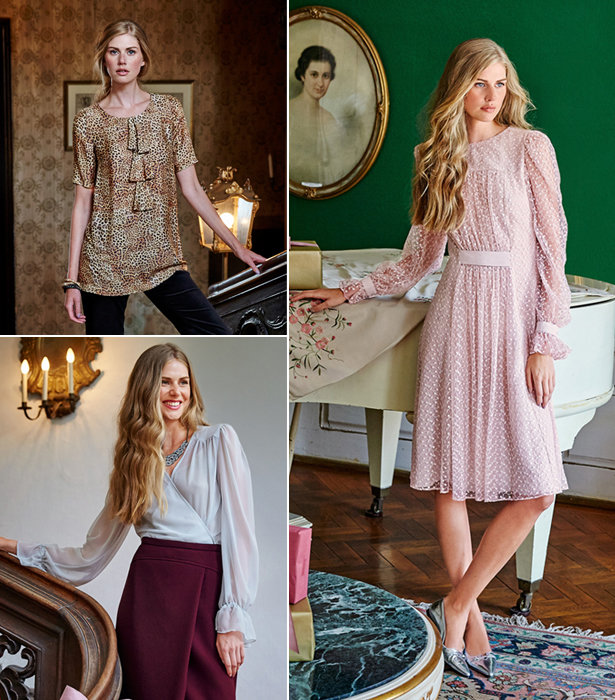 ShareThis
This new collection from the December 2015 issue of BurdaStyle features classy looks that are perfect for your next holiday party! Feminine dresses, classic trousers and sexy blouses will be all you need this season.
This beautiful blouse embodies Victorian romance! It has a should yoke and long puff sleeves as well as a sexy plunging v-neck.
This lovely green emerald dress is the perfect frock for your next holiday party. It has a high-neck and features long cuffed sleeves with a cinched waist and flowing skirt. The sleeves are open and held closed with golden bell knobs.
This beautiful dress is made using an embroidered tulle fabric and is gathered at the front and back and held with a wide grosgrain ribbon. The long sleeve cuffs are also cinched with the same ribbon. Perfect for the girly girls!
This fantastic shirt dress has a loose fit and is sexy with its plunging v-neckline that meets the center front for the button placket. The belt and clasp are covered with the same fabric as used on the dress. Further details are the epaulettes and flap front and visible quilted pocket bag.
This simple short sleeve blouse is made of a flowing silk crepe and is easily pair with trousers or tucked into a pencil skirt. There is a front ruffled jabot that adds interest!
This light knit sweater features drop shoulder, a plunging v-neckline and a longer hemline than usual. It exudes subtle sexiness while still staying weather-appropriate.
These trousers have a bootcut flare hemline, which will make your legs look extra long.
This maxi skirt is special as it is made out of a fancy sequined fabric. It has a narrow fit and the waistband is made out of a grosgrain ribbon.
This slim-cut skirt features a shaped yoke and narrow waistband are the front parts over eachother in winding optics. The hem ends just below the knees.