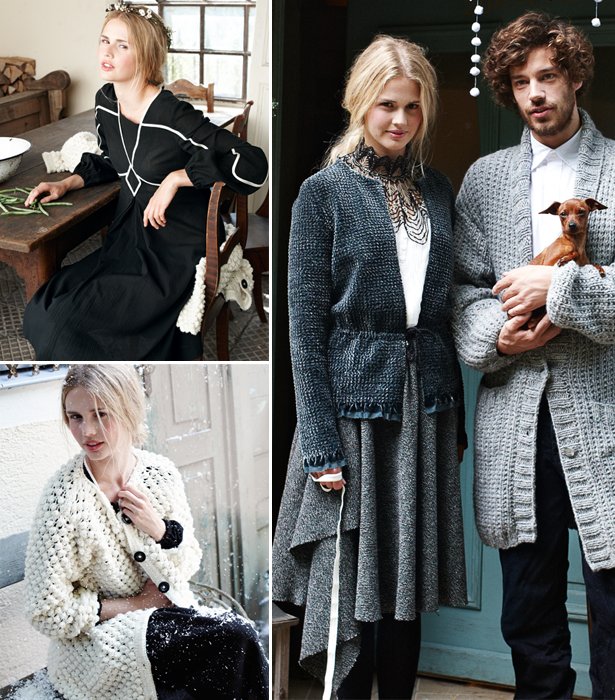 ShareThis
We bring you this new festive pattern collection from burda style magazine's December issue. It's cold outside and the air is clear. Inside it's warm, cozy and festive. Feast days as we love them. These new patterns include styles for both men and women that are pure, natural and have subtle sparkle.
On the quiet days of the year we get even closer. She is wearing a fitted Jacket with puffed gathered sleeves of blouse fabric. The sleeves are cut casually wide, and rolled loosely up for a classic look. And he looks simply great in this Rustic Worker's Shirt with a plastron inset and button up closure.
This dainty Two Look Dress in embroidered batiste and wool crepe is just right for dignified occasions. The primness of the rounded collar is counteracted by the swing in the full, gathered skirt. This style, with its low waist seam, has a lengthening effect, which makes it ideal for shorter women.
Refined puritanical elegance. The Double-Layered Tunic with generously draping hem edges is Victorian-style and oh so lovely to wear. We love it with this draft-yourself lovely Ankle-Length Skirt. It is full-bodied and a great layering piece and is finished off beautifully with a ribbon waistband.
Fine crepe satin and rib knit fabric for the cuffs and hem combine to make this festive Shirt. It looks great this Flounce Skirt in wintry loden fabric that falls elegantly below the knees. The side flounce adds a theatrical touch.
Elaborate, contrasting white piping on seams and edges are a big attraction on this black Dress. The perfect garment for a festive occasion! The skirt section is widely flared, with inverted pleats.
This fitted Button Up Waistcoat in ribbed ottoman creates a sharp contrast with its low neckline and narrow shoulders. What better way to wear than over this lovely Lucia Dress. It is delicate, feminine and made in a pale satin with bell sleeves and an empire cut. The V-neckline ends playfully in loose ribbons at the front end.
This Long Wool Coat with an asymmetrical row of buttons is the ideal accompaniment for a quiet walk. It looks just as good over jeans as it does over a dress or skirt.
This long Man's Knit Cardigan, knit with 2 strands of yarn is a cozy winter garment perfect fit for a man. She is wearing this lovely straight-cut velvet Jacket that features striking edging on the hem and a drawstring waist casing.
Sweet. Both the holiday baking and the Tweed Dress! It is fitted on top, ans has a full skirt section. Narrow satin piping discreetly emphasizes the waist seams. The lace collar is simply button on and so sweet.
The Man wears this Knit Jacket that makes him a fine specimen! The leather bands and pocket edges are original rustic details. She wear a this fitted Jacket with full peplum that is just lovely. It is made in pin-striped wool that is so classic and it has great features. We love it with these riding-style pair of Trousers. They have pig skin inserts and contrasting side bands that give the trousers a slimming look.
The bramble stitch pattern on this Knitted Cardigan is reminiscent of small snowballs, but still keeps you warm with virgin wool and cashmere mix.
Almost tinsel. Three rows of fringe on a self-made Leather Bag.
Happy Sewing!